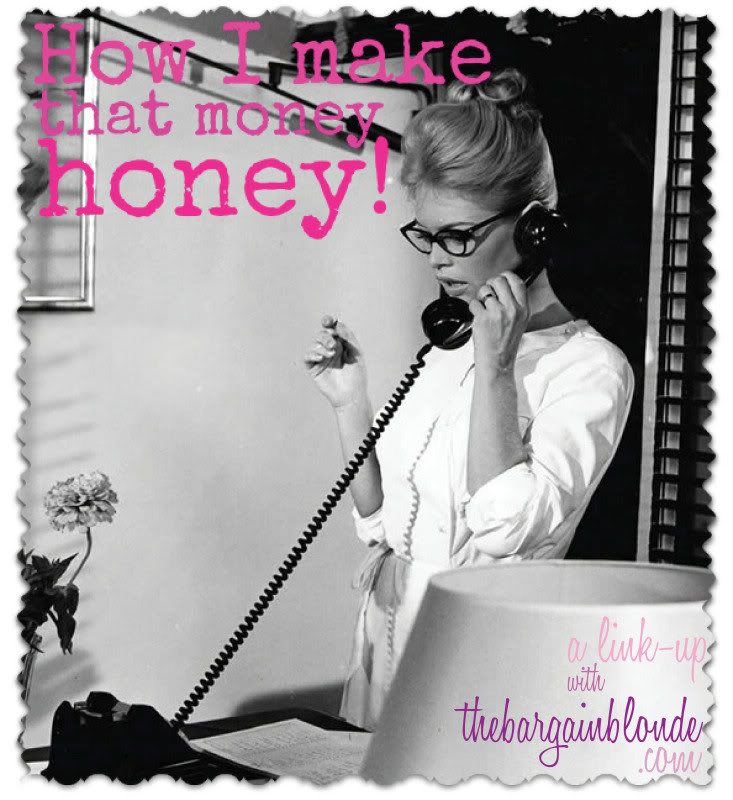 I wrote this post for the "How I Make That Money Honey" Link Up, hosted by Lindsey at The Bargain Blonde. As with the vlog link up I participated in, I found out about this link up on Handling With Grace. Unfortunately I thought the "midnight Friday" closing for posts meant midnight Friday night and not the midnight that starts Friday, so I missed officially adding myself to the linkup.  But I've already written the post, so here it is.
In Lindsey's post, she talks about her career starting with college. I can't say I've had a career since college so much as a variety of jobs, or what one interviewer called "an interesting path". I'll leave to you to decide how interesting it is, but I'll start off with college as well and then work up to where I am today.
I actually started college as a senior in high school. The only class I took at my high school senior year was German. The rest of my classes were taken at the University of Toledo through a post-secondary options program at my high school, which paid for the courses and books as long as I passed the classes.
Completing those courses allowed me to enter Bowling Green State University as a sophomore and finish a degree three years after high school. My major at BGSU was creative writing, and my minor was art. While there, I was a fiction editor for the undergraduate literary magazine Prairie Margins, the copy chief for a multicultural magazine called Tint, and an intern at Mid-American Review.
During high school and college, I worked as a cashier at a retail supercenter and stayed there until about half a year after graduating. I mostly worked at the register scanning groceries and general merchandise. I also occasionally manned the self-scan checkout and the booth for lottery tickets and cigarettes. I wrote a novelette inspired by some of the people and situations and set up a now-deleted blog to share the story with coworkers. I plan to repost it here at some point but haven't decided how to go about it.
A couple months before leaving the store, I started working at the front desk of a hotel near the store. In addition to the regular duties you'd expect of working the front desk, since I worked the night shift I also did laundry, ran audit, and put out the breakfast. That breakfast is why I now refuse to make or eat sausage gravy and biscuits.
While the paychecks from working full-time at the hotel and remaining part-time with the store were nice, the fact I pretty much only worked, ate, and slept was not, so I resigned from the store. I switched to second shift and stayed at the hotel for about two years before I accepted a new job in Florida.  I have been asked to write a story inspired by working at the hotel, but I haven't yet. (I do have a lot of notes for it though).
The new job was working as a customer support advisor in the collections department for a major credit card company. When I started, I worked on consumer accounts. As you can imagine, the majority of people I talked to in a day were not happy to hear from me, although some talked to me long enough to find out that we did have options to help people who couldn't come current. About a year in, I moved over to business cards, which I enjoyed a lot better because I mostly talked to people in accounts payable.
Shortly before resigning, I worked in a special department for high balance portfolios where I got to be the personal account manager for over 100 different people. It was a nice change because I got to develop more of a relationship with people to work toward helping them rather than being just one of many people to talk to them. In total, I spent three years with that company before resigning to move to Georgia with my husband.
I applied to jobs in Georgia and had some interviews, but my husband called me one day and told me to cancel my next one because we were moving to Germany. At first I'd thought he was kidding, but of course he wasn't. Since we were moving within three months, I put looking for a job on hold until after we moved. Once we were settled in Germany, I applied to a variety of different jobs and interviewed for a few.
The job I accepted was Child and Youth Program Assistant (Teacher Assistant/Assistant Teacher) at a daycare. While the daycare serves ages from infant to five years old, I mainly work with pre-toddlers and toddlers (one and a half to three years old). Some people shy away from the age group I work with and would rather work with the younger or older kids. While I am sure I could find things to love about any other group if circumstances dictated me switching, I enjoy where I'm at most of the time. If you're interested to know more details about that job, I do eventually plan to post more about it at some point. [Update: You can find those here.]
So, there you have my "interesting path". While I have done things in most of the jobs like helping managers edit things or working on newsletters and I've done some outside-of-work writing and editing, you can see I haven't officially used my degree in any of my jobs. That's okay though because each job has taught me things and helped me develop skills that I've used in other jobs and even other areas of life. Perhaps what I've taken from each of the jobs I've done would be worth another post in the future. Speaking of the future, I will be starting graduate school classes in counseling psychology this month. It should be interesting to see where my path leads from there.
Related Posts: