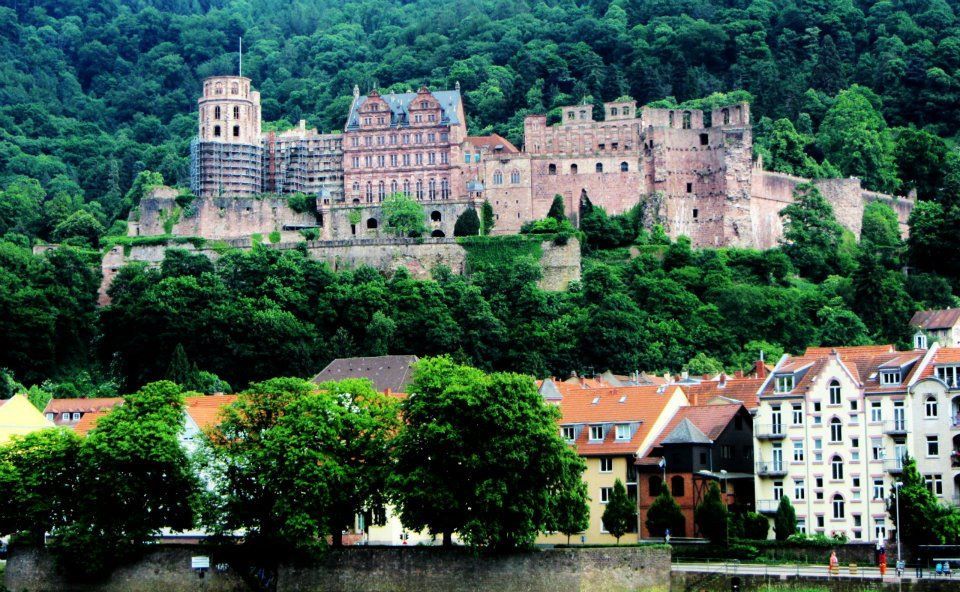 Since we'd taken the Schlangenweg (winding path) coming down from the Philosophenweg (Philosopher's Way) on Memorial Day, we came out near the Alte Brücke (Old Bridge) where I wanted to take pictures with me in them for my military installation review for Handling With Grace. My husband first took a couple of me with the castle in the background. I looked miserable in them, in part because it was sunny and in part because my allergies had kicked on up on the Philosophenweg, so I didn't use those. I did take a picture of the castle I liked though.
One of my favorites pictures I've taken in Heidelberg is over the river, which is one of the blog headers. I thought we could get a good one in the same area with me in it. Unfortunately, in the first one, I looked bad. In the next one, I was looking away when he snapped the picture. In the one I was smiling in, the wind was blowing and made my hair all sorts of crazy. My husband said the one looking away was good, and I thought it was the best one of the scene behind me so I decided to use that one for the review.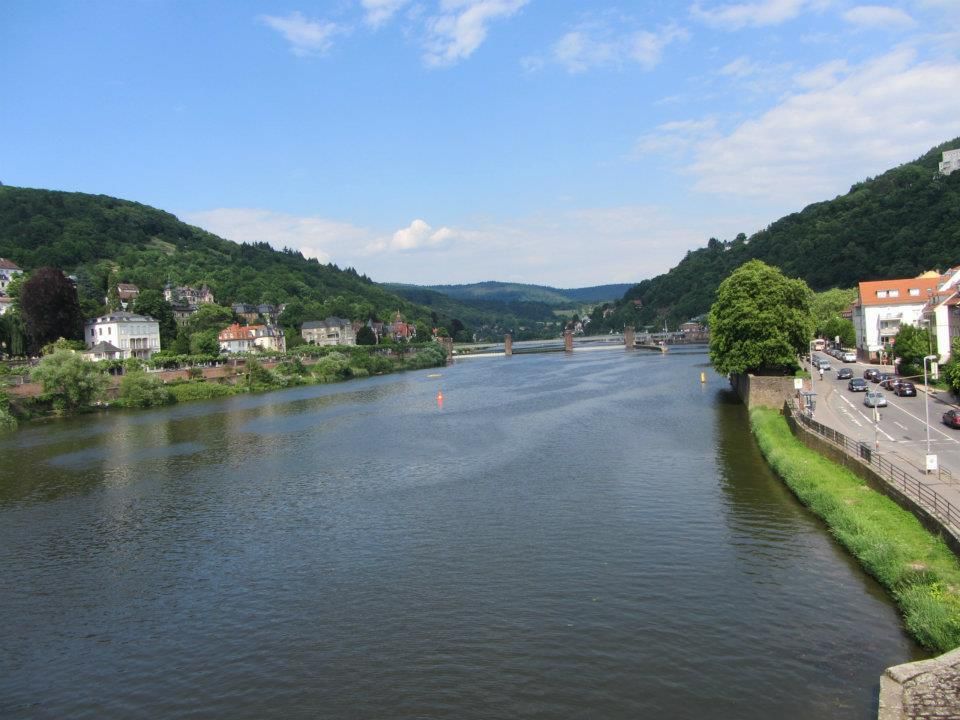 As we were leaving the bridge, a man said "Entschuldigung" (Excuse me) a few times to my husband. When my husband turned, he asked him something in German, gesturing with his phone. My husband looked confused and I said, "I think he wants you to take a picture." That turned out to be correct. The man was with a beautiful girl and wanted their picture taken. So my husband took it for them. The man referred to the women as his "friend" so I don't know if there was more to it, but they made a cute pair whatever their relationship, and they seemed very happy which was nice to see. After my husband took a picture of them, I took a picture of the view over the river in the opposite direction.
After that, we wandered the city and ended up on the Hauptstrasse where I took a couple pictures.
The day was also a public holiday in Germany Pfingstmontag (Pentecost), so most shops were closed, but there were many restaurants open. We didn't want to spend too much, so I suggested just grabbing a slice of pizza from Pizza Hut, which I already knew from our first trip to the Philosophenweg was tastier than in the States (although I realized I neglected to mention in the post that we had stopped for it before making the trek up). My husband decided we should go in the restaurant this time instead of using the window.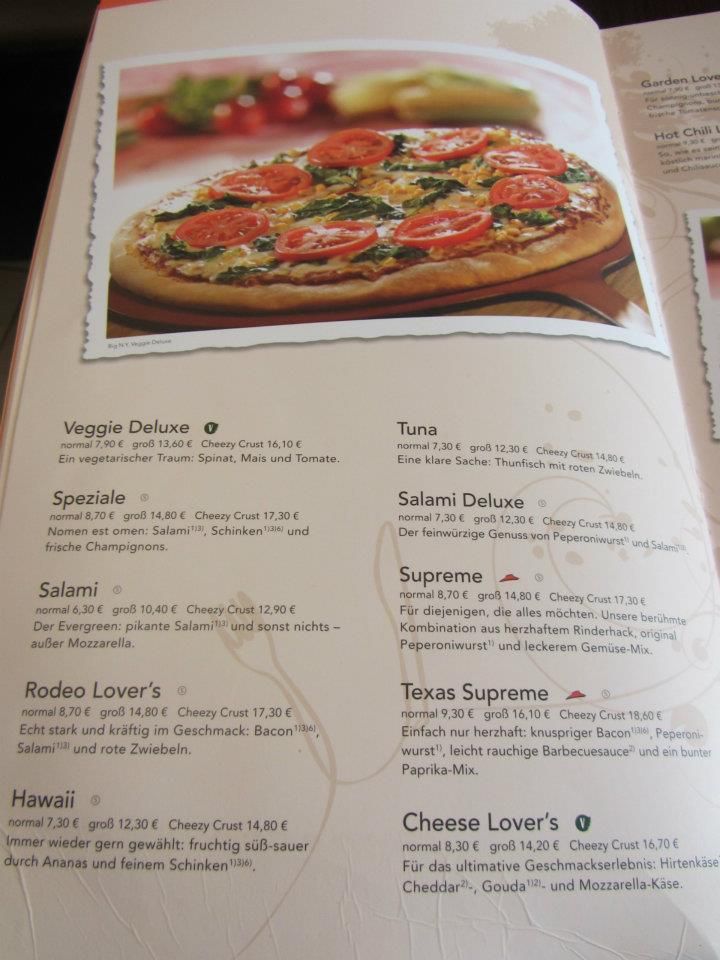 This may or may not have been a mistake. It was interesting for the experience. I enjoyed seeing things like Texas Supreme on the menu with a German description. Unfortunately, the waitress took forever to come with menus and then longer to come back to get our order. I have written before about the differences in the german dining experience, but expecting to wait applies to food, not to being acknowledged or have the order taken. I looked around though and counted a dozen tables and one waitress. So I couldn't fault her for being slow. I could fault management for not planning ahead to have help for her though. It took so long for her to come back that my husband was almost ready to leave.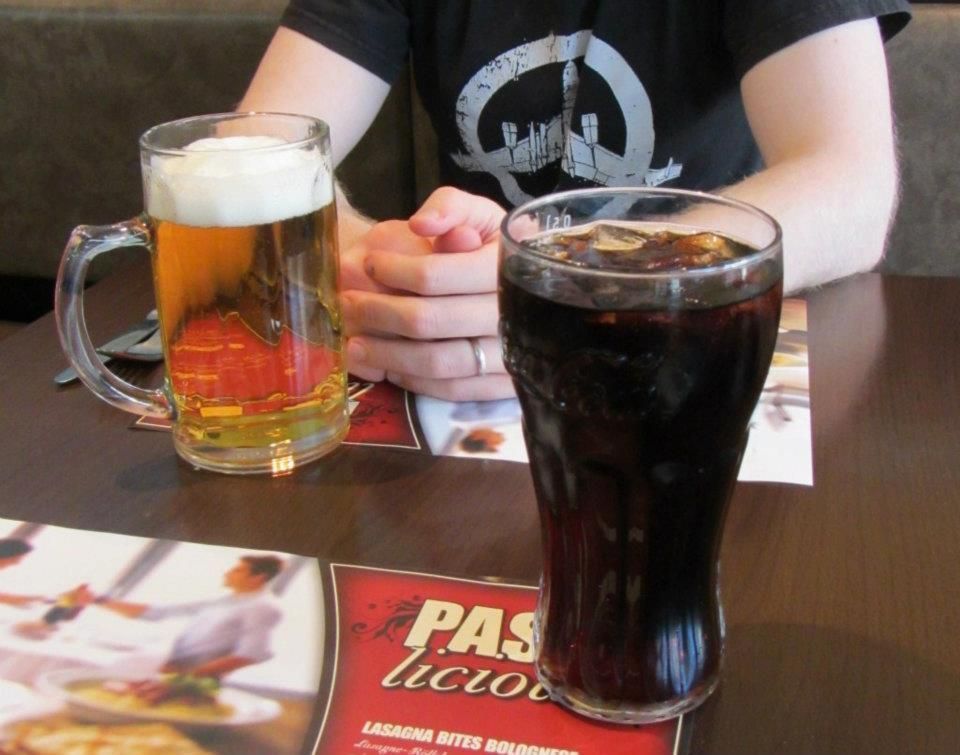 She did come back though and we ordered a Salami pizza. (A quick German lesson for you: Salami isn't salami like the lunchmeat you may be used to but more like our pepperoni. They do have Peperoni in Germany, but the word refers to a hot pepper. Of course if you're adventurous Pizza Hut does offer a pizza with Salami and Peperoni together). For drinks, I got a half liter glass of coke and Tim got a beer. While it's not common in Germany to have ice, I wasn't surprised when they put ice in my Coke since it's an American-based restaurant. But I kind of wished they hadn't. It was nice since it was hot out, but since they didn't give a straw (whats up with that?), it made my teeth cold. At least unlike America it was only a few cubes.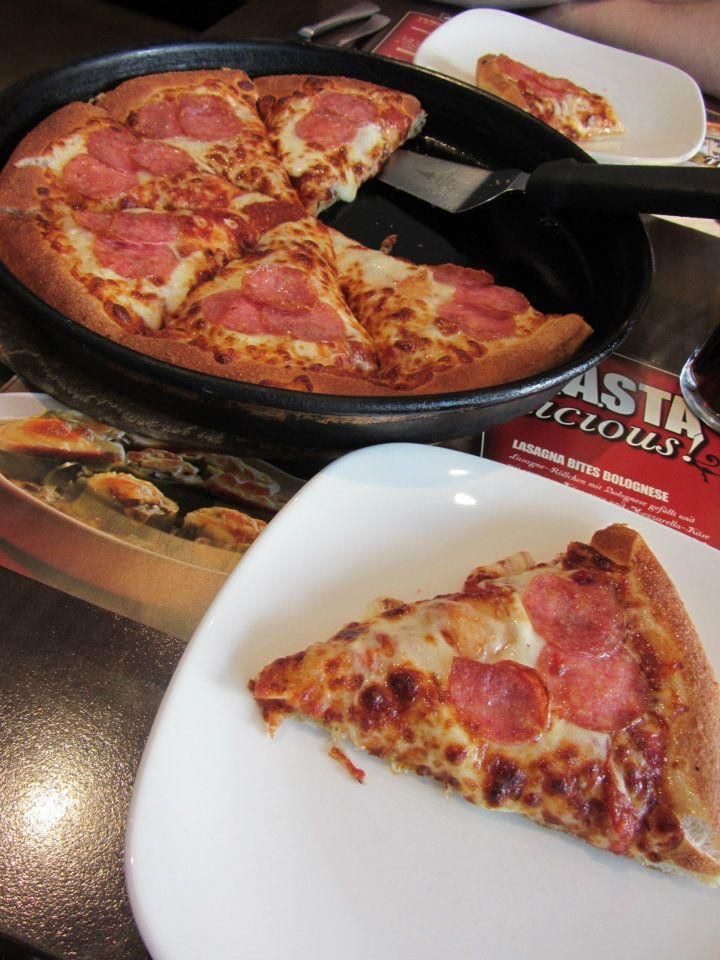 The pizza took awhile to arrive, but it was delicious when it did. We only managed to eat a few slices and decided to take the rest home. (It was just as good reheated in the microwave the next day).
Then we trekked back to the train station and walked through it to come out on the street near the PX where we had parked. We managed to make it home just in time for it to pour down rain. I'm glad the rain held out long enough for us to have our outing.
Related Posts: