When I stopped to think about why I hadn't managed even one post during the last session of school, I took a look at the number of words I'd written for my class conferences and found out I'd hit almost 21,500 just for one graduate class, which is about as much as 27 of my average blog posts worth of writing. And then of course there were reading assignments and papers and another class. I had a brief week between sessions and am back in class again so I am not sure how often I'll be able to post, but I wanted to *finally* tell you about celebrating our first anniversary which I'm writing about less than three months before our second anniversary. Yep, I'm behind. Sooo without further ado:
Our anniversary was in the lovely month of June, just a couple days after I'd started a new job (yeah I started writing about that process late so you'll hear more about that oh…probably after I'm a few months into whatever my next job will be). Fortunately our anniversary fell on a Saturday so we at least go to spend the day together.
First, my husband took me to Bierhelderhof to get dessert with a plan to get dinner afterwards. When we arrived, there were cows having what seemed to be a bit of a fight. This amused me and I took a picture, but it didn't turn out that well, so here is a picture with one of the cows who was part of the drama off alone afterward. Poor cow.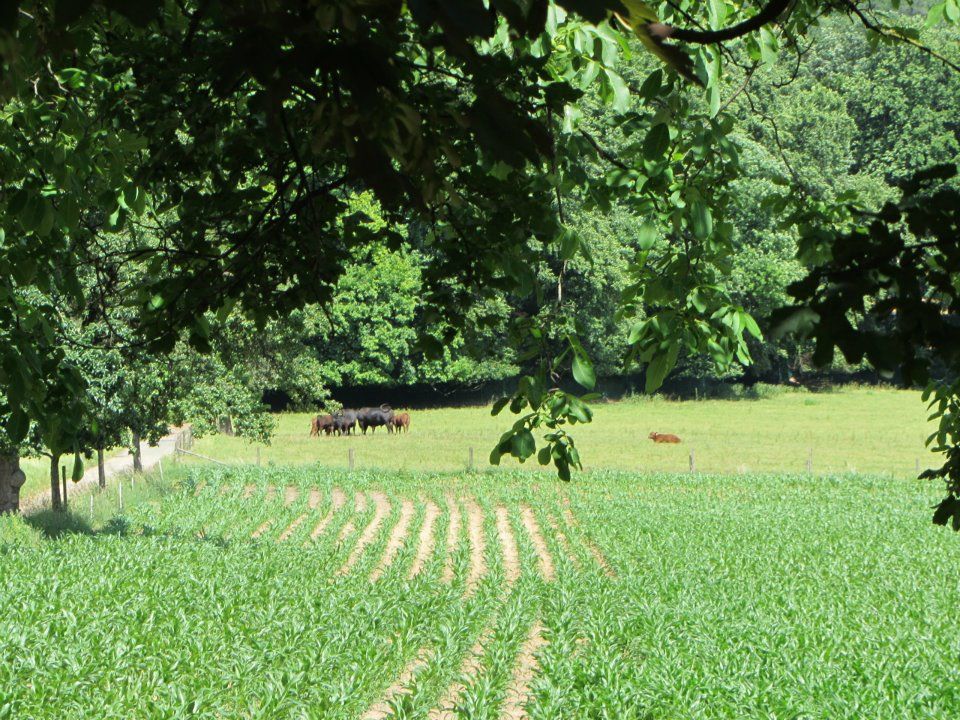 What was not as amusing was smelling the cows the whole time we were eating, but the green scenery was nice and our desert was awesome. We went back another day and I tried Maultaschen for the first time. I'll get around to telling you about someday.
Unfortunately what I thought were allergies got in the way of me enjoying being there as much as I could have. As you may know, the work I had started was in a daycare, and of course with my luck an illness was going around and I had caught it (though I didn't know that then). We drove around for a little bit after dinner. My husband took me to a spot he'd driven past before that he thought would be a good spot for me to take a picture.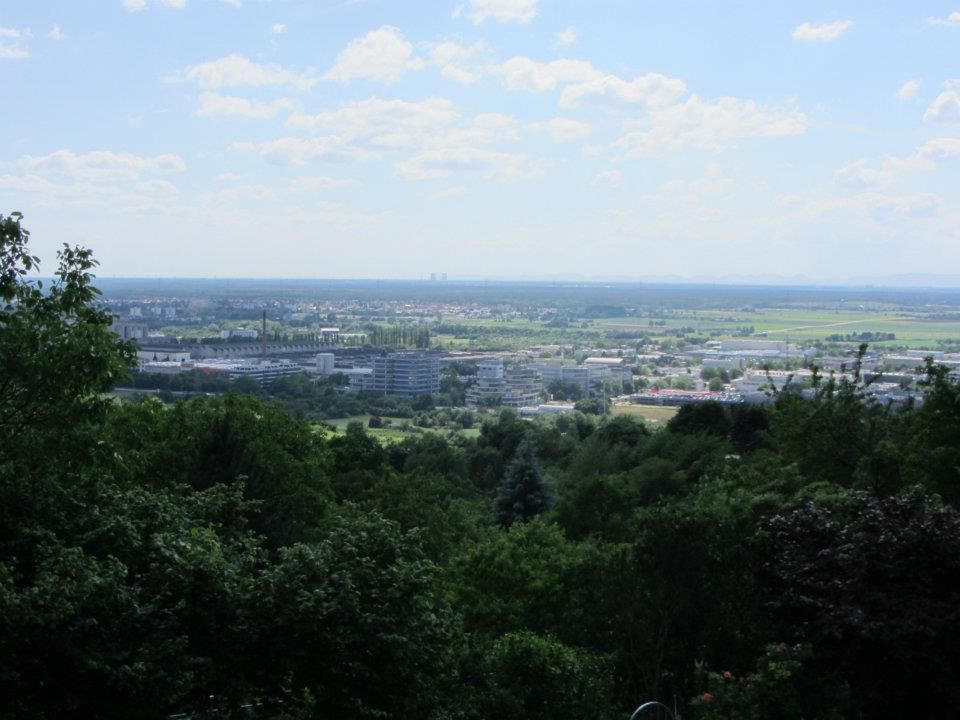 We drove around a bit more and then went home for awhile where I tried to nap off what I still thought was allergies before dinner. Here are a couple pictures from the drive.
For dinner, my husband suggested the Italian place we'd gone to for my birthday. We couldn't find it on Google but drove around looking for it as we knew it was on the way to Walldorf. We ended up finding it and discovering the name had changed from Villa Verdi to Trattoria Vecchia Bari 2. For an appetizer we got Mozzarella Fior di Latte mit Tomaten (fresh mozzarella with tomato). The waiter also brought a "treat from the kitchen" as he called it, which was bread with tomato and spices. It was pretty good. My husband saw squid on the menu and thought it would be fried calamari. It wasn't and he didn't quite care for what it turned out to be, but our dogs loved it later. I got Cannelloni al Forno which was decent.
After dinner on the way back home, we saw a really pretty sunset which you may have seen before if you were following my photo a day posts.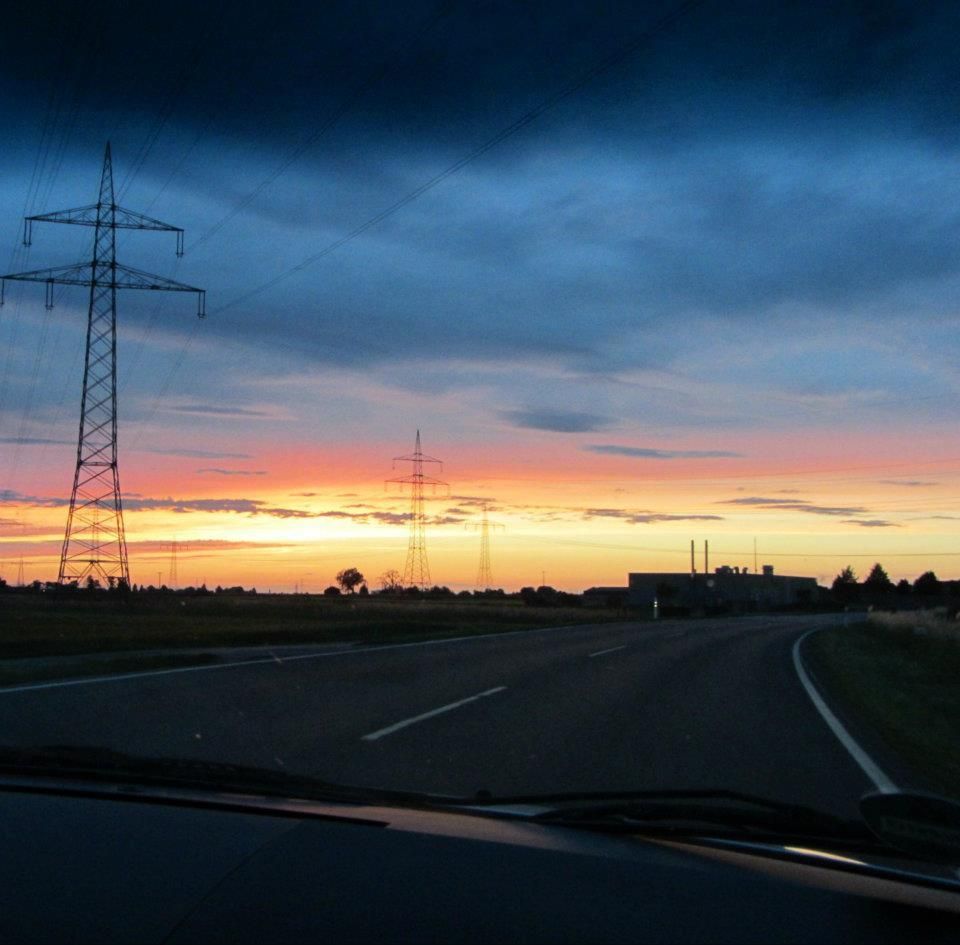 Unfortunately not long after we got home I realized it wasn't allergies but an illness that had befallen me and I spent the next couple days in bed. But I'm glad the worst of it held off so I could enjoy spending time with my husband on our anniversary. It's hard to believe we'll already be celebrating our second anniversary in a few months. Around the same time, we'll be moving again within Germany (assuming the time line doesn't change again), which will be our third move since getting married. Time really does fly. In that way it's not so bad to be so far behind on my blog because when I do get the chance to post, it lets me revisit the memories while making more. Next time I'll tell you about an adventure with Apollo: his first walk out in Heidelberg.
Related Posts: