My husband picked me up from work on the last Friday in September, and my camera was on the seat. I asked why he had it in the car, and he said he thought I wanted to take pictures at Schützenhaus since I hadn't last time or, he suggested, we could go to the place we went for desert on our anniversary, or just drive and see what we could find. While I want to go back to Schützenhaus at some point, it was a nice day and about 70 degrees. I figured we wouldn't have too many more of those, so I said we should go to the place we'd been on our anniversary, Bierhelderhof. I had been coming down with something that day anyhow and hadn't been able to enjoy it as much as I would have liked to.
On the way, we stopped at the gas station. I was happy to be able to understand many of the signs. While it's somewhat useless to know that a sign saying "immer frisch immer lecker…einfach hmm" means "always fresh, always tasty…easy hmm", it's better than not understanding anything around. As we drove through the wooded area to get to Bierhelderhof, I took this picture.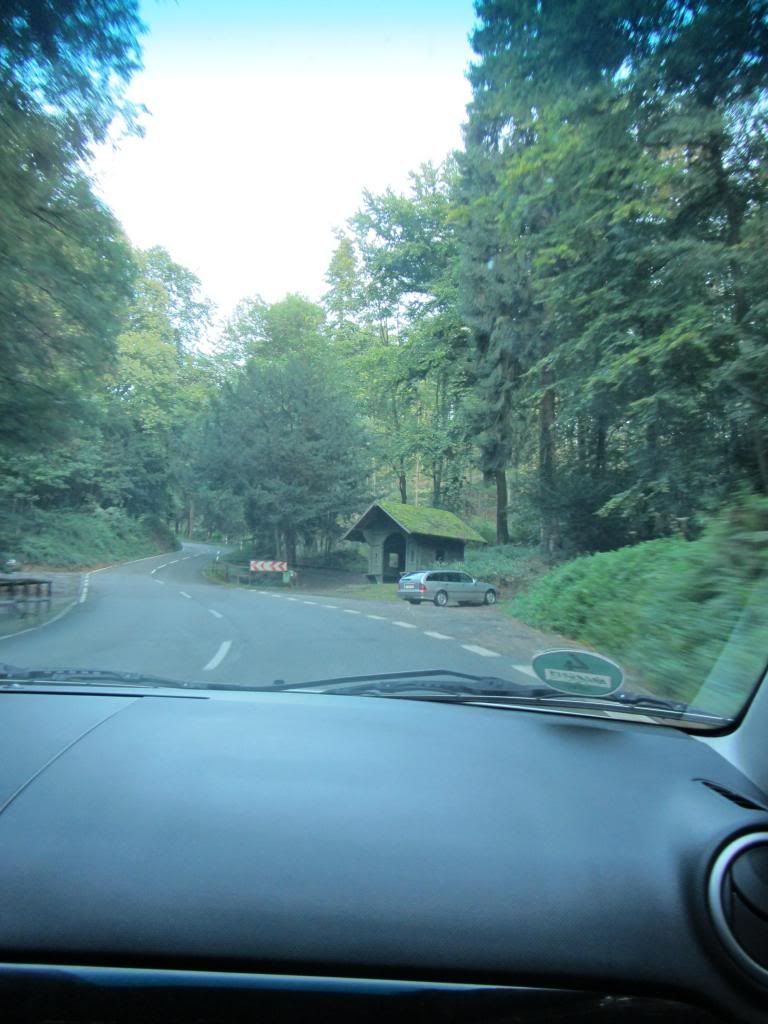 When we got to Bierhelderhof, it was getting a little chilly, but not bad. I was glad I had my jacket with me though. Last time, all the seats inside had been reserved. We didn't bother to check this time and just sat outside. Here's a picture I took of the building though. I actually took this during the meal and the waitress saw me. Apparently she just saw my hand though, so she thought I was trying to wave her over and asked what we needed. Oops. I let her know I was just taking a picture.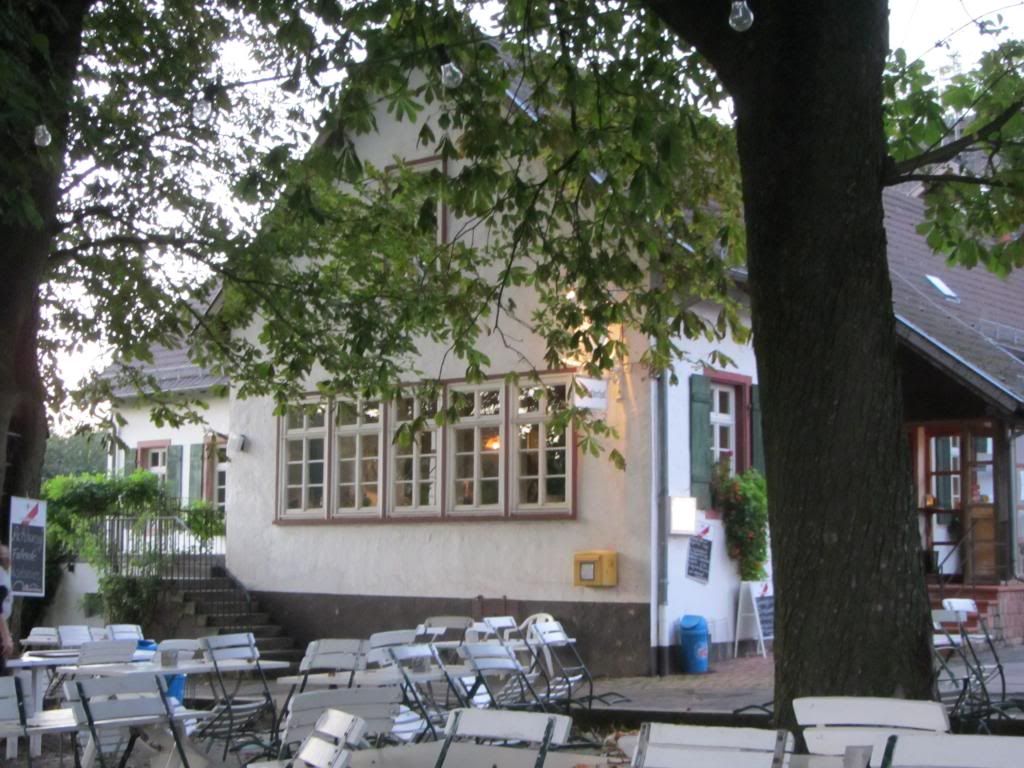 From our table we could see a lot of cows.


There are also animals in the barn next to the parking lot, so there is quite a bit of animal smell. If that's a problem for you, you may want to try to get a seat inside if you go.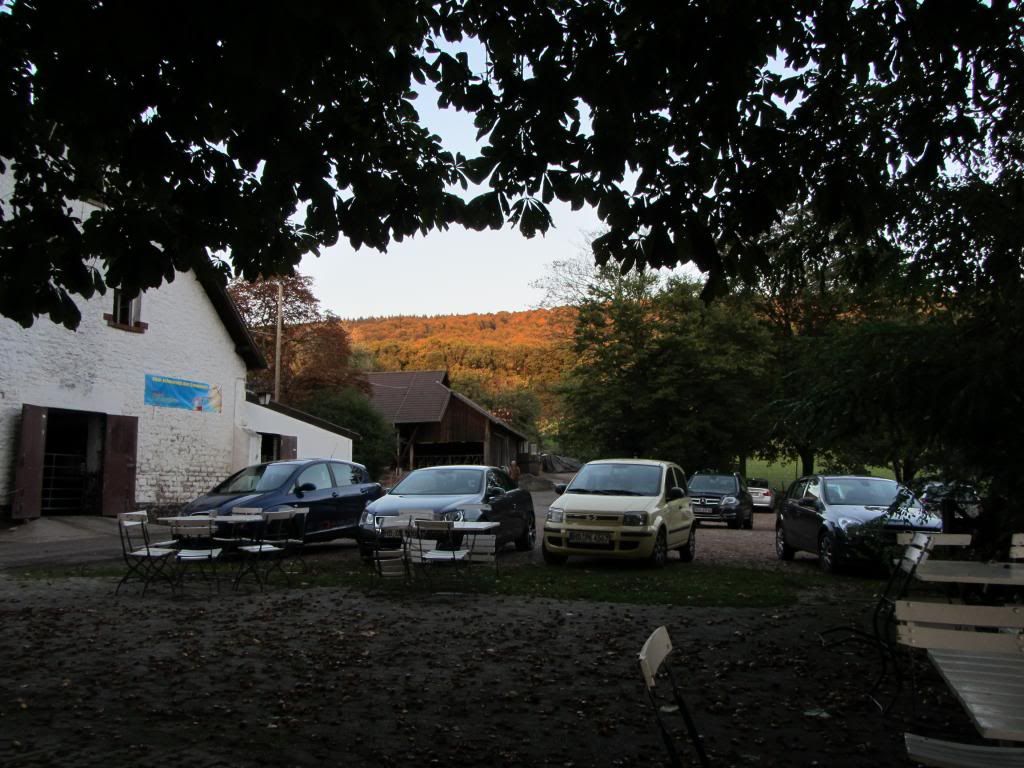 When the waitress came she first asked what we'd like to drink. I was proud of us that we were able to order without asking her if she speaks English. I was especially proud of my husband because he understood when the woman asked in German if he wanted his water with bubbles or without.
By the time it came to order food though, he ended up slipping in some English which resulted in her asking (in German) if we were from England. I told her Amerika. At this, she started speaking English and wanted to know where we were from. My husband said he's from Texas. She said "The biggest state" and started guessing cities, Houston and San Antonio I think. When he told her Dallas, she recognized the name and asked for confirmation that it's in the north of the state.
My husband ordered a Schnitzel "Wiener Art" (a Schnitzel made with veal) with Pommes frites (fries) and salad. I ordered Hausgemacht (Homemade) Maultaschen with salad, which would be my first time trying Maultaschen. I had first heard of Maultaschen from Laurel at Monkeys and Mountains in this post about the new blog title which, at the time, included Mautaschen although it's since been edited. I did a little searching to see if she'd written about Maultaschen any other time and found the original post here. One popular legend surrounding the creation of Maultaschen is that monks, the Cistercians of the Maulbronn Cloister, created it to give the appearance of a meatless dish so they could eat meat on Fridays without causing a scandal.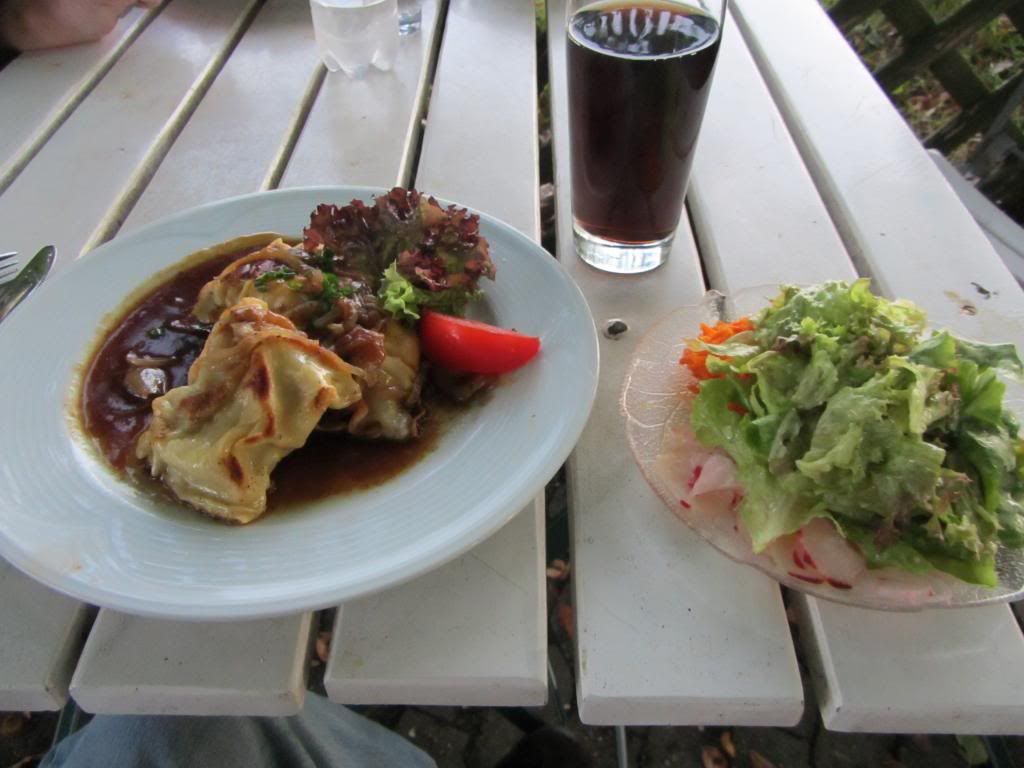 The Maultaschen was, as I've seen it described, similar to ravioli, but the noodles are a bit different and the sauce is more of a meat gravy than one would have with ravioli. Mine had sausage inside, which is pretty hit or miss for me whether I'll like it. I enjoyed it, but it was a bit heavy for me and I had to leave the last few bites. My husband liked his Schnitzel also. I'm glad we went here because it gave me the opportunity to try a new (to me) dish, which of course is part of the fun of living in another country.
Related Posts: