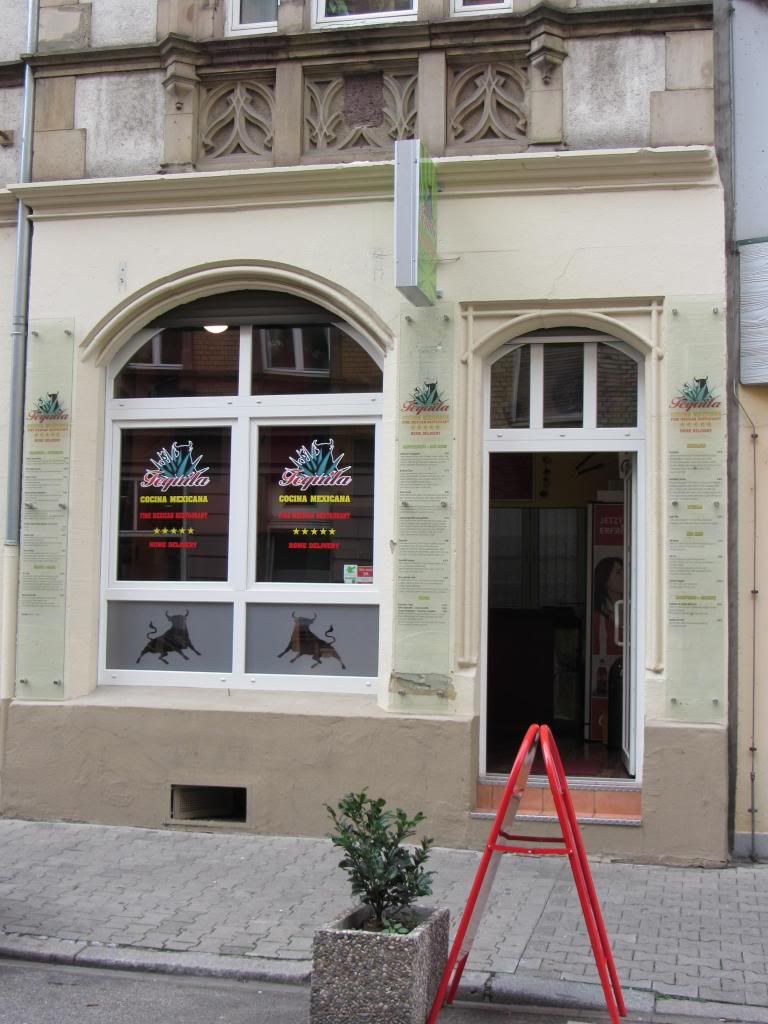 My husband had gone for lunch one time at Tequila Cocina Mexicana in Mannheim and said it was better than other places we'd had Mexican food (or rather German approximations of Mexican food) in Germany. It still wasn't quite authentic, but was better. So, I figured we could go while he already needed to be in Mannheim for something else. While we probably could have assumed the man there spoke English as much of the signage like "home delivery" on the door and parts of the menus were in English, my husband asked if the man spoke English and he said a little. My husband ordered tacos while I opted once again to try enchiladas.
In America, grande enchiladas would include five enchiladas or so, and usually have the option to mix the varieties of chicken, beef, and cheese. Here, it was two enchiladas, both the same of whatever variety I chose (I chose chicken) with salad and yellow rice. While the salsa wasn't quite what we're used to, it was a much closer approximation than anywhere else we had been. My husband also enjoyed the fact they have a shelf of some of the hottest sauces. I think the one he had was called Beyond Death and was made with habanero, cayenne, and some other things. I don't like very spicy things and had no inclination to try it.
For drinks, my husband asked if I wanted a margarita or something. I didn't notice any alcohol on the menu, and the place was too small for a bar area. I did see a nearly empty bottle of tequila on one of the shelves, so I suppose it is possible to order by the shot but I did not ask as I don't really drink tequila outside of margaritas. I opted for just getting a .33L of Coke, while he got some Mountain Dew Code Red, and later, after the hot sauce, water (which I could swear would make it worse, but what do I know?).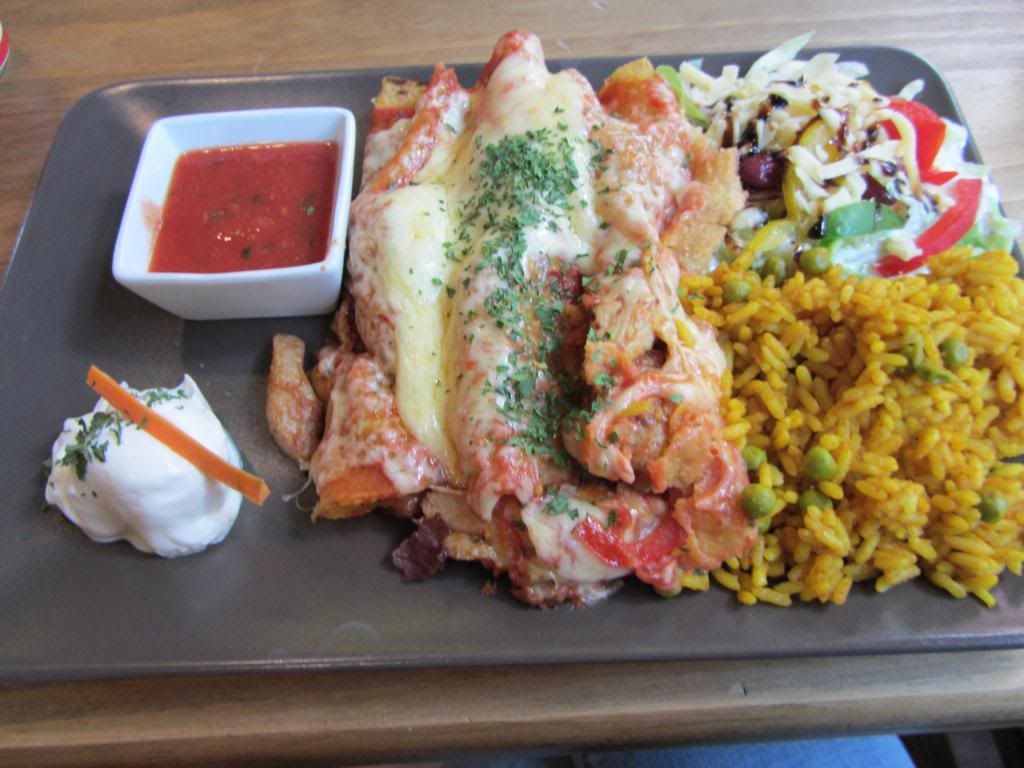 While we were eating, a woman came in who works there. She asked us something in German (although I don't remember what it was). When my husband asked if she speaks English, she said she doesn't, but she speaks Spanish. He told her he speaks a little. She said she was from Mexico and asked where we are from. She understood my husband saying Texas, but did not know Ohio (where I am from). No surprise there hah. He tried to explain in Spanish that it's in the north of America. Whatever she asked about next, he said was beyond his Spanish capability. Then she told us in German that she has three children who speak good English but she does not. I understood that and was able to translate that in English for my husband.
My enchiladas were pretty good, although I thought they were kind of expensive compared to American restaurants that serve Mexican food. Two enchiladas were about 8 euro, while in many places in the States I was able to get 5 enchiladas for about 8 dollars. With my meal, my husband's 3 tacos, and us each getting a soft drink and my husband a water, it was 20 euro and some change. They did have advertised that on Wednesdays they have all you can eat tacos for about 9 euro, which seems like a decent deal if you can eat a lot, but I'm not sure if that's still going. Overall, it was a good place to stop in to get a taste of Mexican food in Germany.
Related Posts: