December 7th was the Army Medicine in Europe Holiday Ball, the first ball my husband and I have gotten to attend and the last of its kind to be held in Heidelberg. When we arrived in Germany last year, the tickets for the ball that had taken place at the castle had already been sold out, so we hadn't gotten to go. We had been hoping the ball would be in the castle again, but it wasn't. Instead it was at the Heidelberg Kongresshaus Stadthalle, which we had accidentally wandered into during the Long Night of Museums. I could have sworn I wrote a post about that, but apparently I didn't so I guess I'll tell you about that next time.
Getting to the ball proved to be a bit of a challenge. We originally planned to take a cab, but all the numbers on the back of the ticket for cabs were either disconnected or went to faxes. The Find it Guide we got during our culture class turned out to have only one page for taxis, and none of them were actually in Heidelberg. When we finally found a taxi service online, it was going to take at least 30 minutes for them to pick us up. It had snowed that day, so that might have had something to do with the delay, but we decided to have someone in our group drive. I was kind of glad it worked out that way since we would have had to walk out past the gate to catch a cab, which didn't seem fun in open toed shoes.
We didn't think to take our car and our friends' car requires at least 2 meters of clearance. All the garages near the Kongresshall were only clear for 1.9 meters. Go figure. So the men dropped us ladies off and went to park, ending up near Bismarktplatz. We checked our coats and waited for them to come in. Other people were coming in around the same time and several were going in and out of the main room during the awards presentation, so at least standing around wasn't as awkward as I was expecting.
Once our husbands arrived, we went to the bar which was near the entrance. Beer and wine were free while mixed drinks carried a charge. I still don't drink beer, so I decided to get wine. Unfortunately they didn't have sweet white wine, but the bar tender suggested he could put Sprite in dry white wine. I was skeptical at first, but it really wasn't bad, and I had several glasses over the course of the night.
As our group walked into the main room, they announced that they would start the line for the buffet. Good timing eh? Unfortunately the people holding seats for our group had not realized my husband and I were coming and didn't grab our name tags, so we ended up searching for another table. It turned out we did know a few people at the table we ended up at, and the people I didn't know were nice to converse with. One told me about Trierburg's festival of lights that goes through the end of December and I think that would make a good place to go in the winter. I also heard from one of the group members who had been at the ball in the castle last year that the interior of this building is actually better.
For dinner, there were two different lines for food and it seems we picked the better one as a few people who had been in the other line had lasagna and made remarks about it not looking as good. In our line there was cold roast beef and salmon with horsradish and salad for appetizers, and then cooked roast beef, turkey, corn on the cob, fried sweet potatoes, and pumpkin puree for the dinner. I ate everything but corn on the cob and pumpkin puree and was pretty full. There was also a soup station but the options, which included some kind of pumpkin soup, didn't appeal to me. For desert, there was crem brulee and some kind of chocolate dish, but I was too full by the time I finished dinner to try any. I hear they were good though.
After dinner, we floated around and ended up being able to get to our friends' table after some of the other people left. They had a game where teams of two had to try to wrap a present. One person had to do the wrapping while wearing oven mitts and the other could only use scissors and tape and could not help with the actual wrapping. It was kind of entertaining.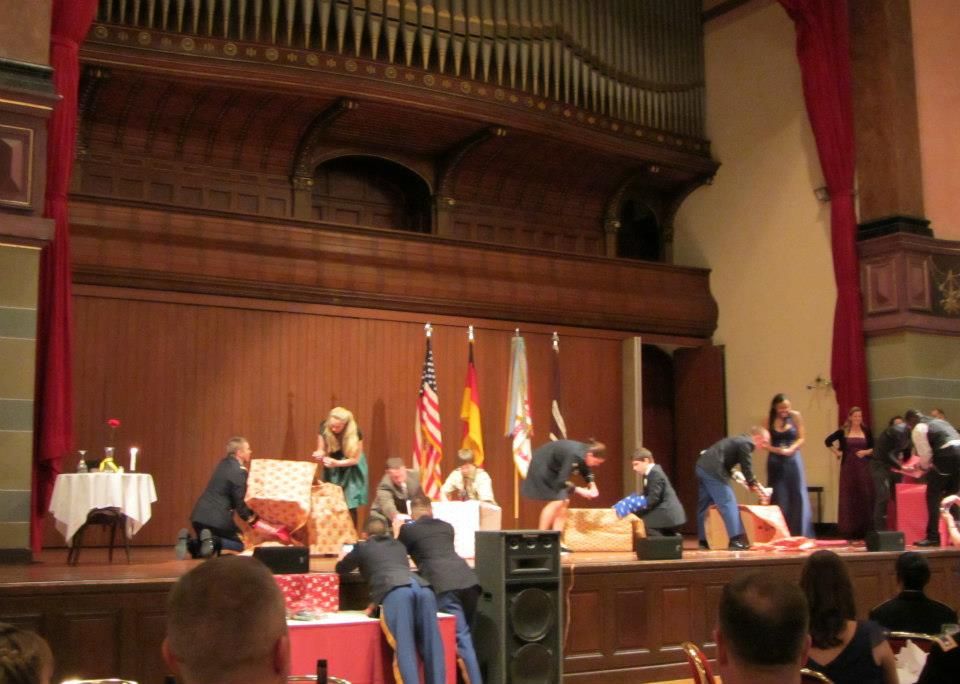 Then, there was dancing, although there wasn't much room as it was only the area between the tables and the stage that was open. Unfortunately there was also some kind of technical difficulty and the music went out for quite awhile. The music actually came back on right as I was walking past the speaker to look for my husband. The song was "Paperback writer" by the Beatles, which I thought was kind of an amusing coincidence.
We mingled for awhile and then I finally went over to the dance floor. I never did get my husband to dance which was kind of disappointing but I did have fun dancing among our group of friends. At one point a friend took some pictures of my husband and me together. Here's one of them.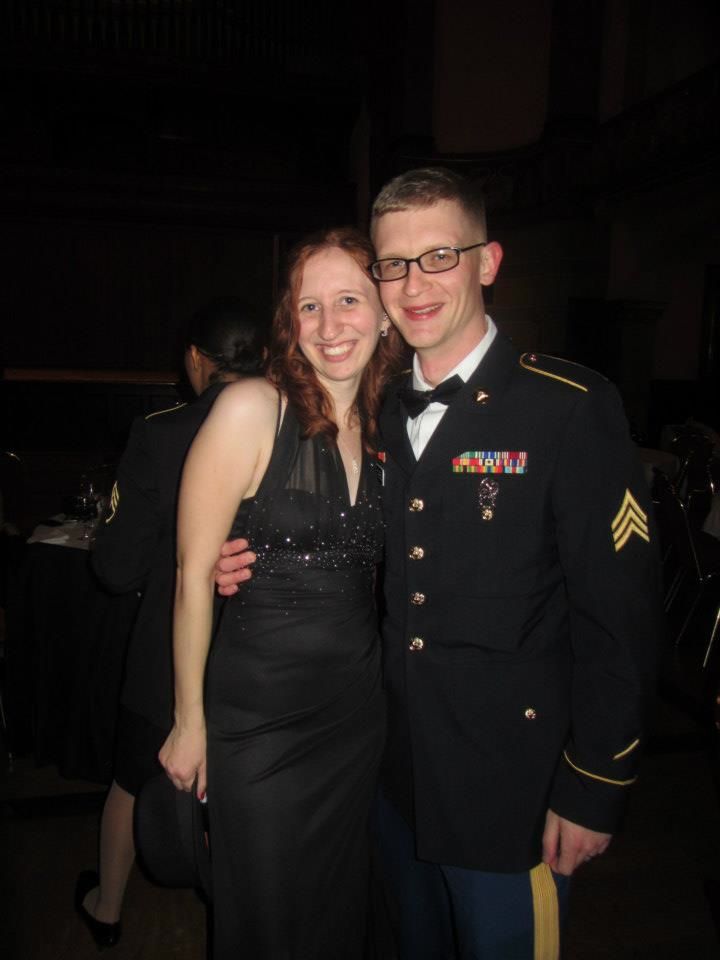 We ended up staying all the way through the end and then piling into a car with some friends (with a designated driver of course). Overall, it was a pretty fun night and I'm glad we decided to go.
Related Posts: