While looking at the pictures for the Long Night of Museums, I realized there were a couple other places I meant to tell you about and never got around to. I was originally going to write a post about where to get American food in Heidelberg, but never got around to it. Well, now most of those places I would have written about were closed since they were on post. But here are a couple still standing:
McDonald's
When we first got to Germany, I wanted nothing to do with American food off post, especially McDonald's. I ate enough at The Village Grill and the fast food places on post that when I was out in Heidelberg, I want to eat German food. However, in late November of our first year here, some friends invited us out to breakfast there, so we went. I never thought I would say this of a McDonald's, but I was actually kind of impressed.
I didn't want to look like too much of a tourist snapping pictures inside a McDonald's so I only took the one, but it is *much* nicer than most of the ones I have seen back in the States. The food is better too. Of course it's still fast food. There is no getting around that. But the ingredients are fresher and the food tastes better, in my opinion anyhow. There are some Americans who much prefer the American McDonald's.
Mandy's Railway Diner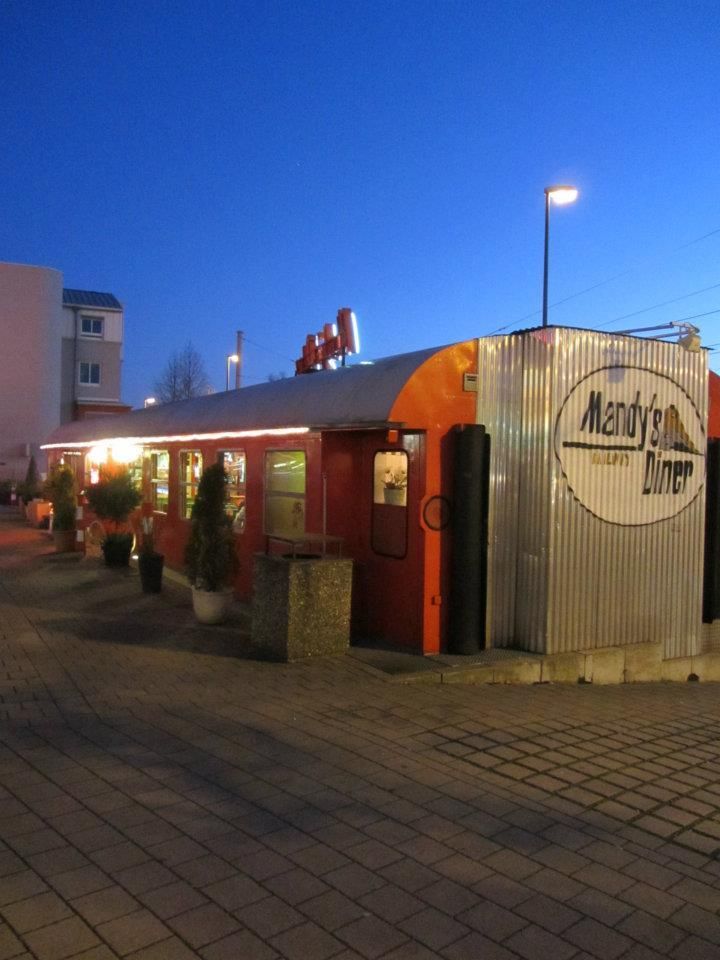 Mandy's is another place I wasn't necessarily eager to go to, and while my husband picked it he even said that he thought we were about to pay euro for standard American food. However, we were both pleasantly surprised. There is a Mandy's Burger in the Fast Food Center and Mandy's Railway Diner in a diner car. We chose the diner car which has kind of a cute atmosphere like you might find in old school diners in the States. We both got different hamburgers. I forget the name of mine but it had an egg and pineapple on it. That sounds bad but it was pretty good. I didn't take any pictures inside, but I did take one outside. We ended up going back another time for breakfast which turned out to be pretty interesting because our waitress didn't speak English. (She did offer to get us someone who spoke English but we decided to fumble through with our minimal German. Between that and her hand gestures, we managed okay I think).
I'm not sure of the location of the McDonald's we were in as there are a few in Heidelberg. I am pretty sure it was the one at Hebelstraße 4 though. If you're interested in checking out Mandy's, it's at Speyerer Strasse 1. Next to it is Mandy's Fast Food Center which contains Mandy's Burger and Pollo Campo.
Related Posts: