After making our way around the protestors, we wandered down a street that had a bit of a Chinatown feel. I liked the lanterns hung across the street.

Eventually we found the Cathédrale Notre Dame de Strasbourg. Although this is not the Notre Dame where The Hunchback of Notre Dame was set, Strasbourg's tourism site claims that Victor Hugo described its facade as "a skillful combination of monumental size and delicateness". It is definitely monumental, and I was actually not able to fit it all into the photo.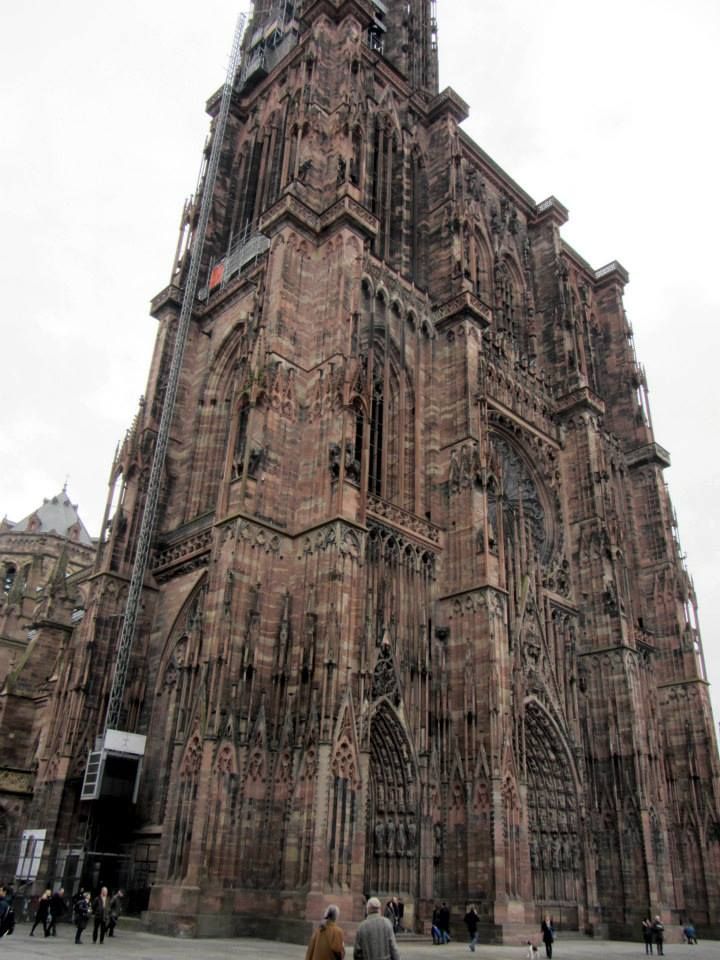 This is the entrance to the Cathedral. The rectangle to the left is a sign that just has the opening hours (7am-11:20am and 12:35p to 7pm with no visits during religious offices), commands visitors to be silent, and prohibits smoking, talking on the phone, eating, taking a dog inside, and wearing a hat.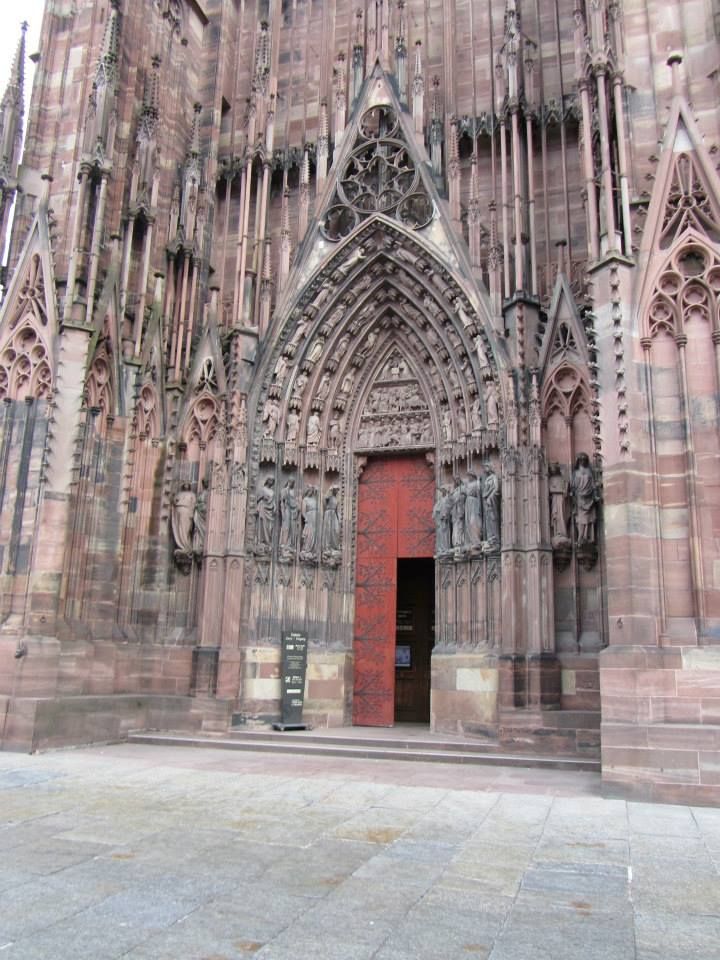 There was a large nativity scene set up inside.


This altarpiece (French: retable) depicts Saint Roch, Saint Maurice, and Saint Nicholas.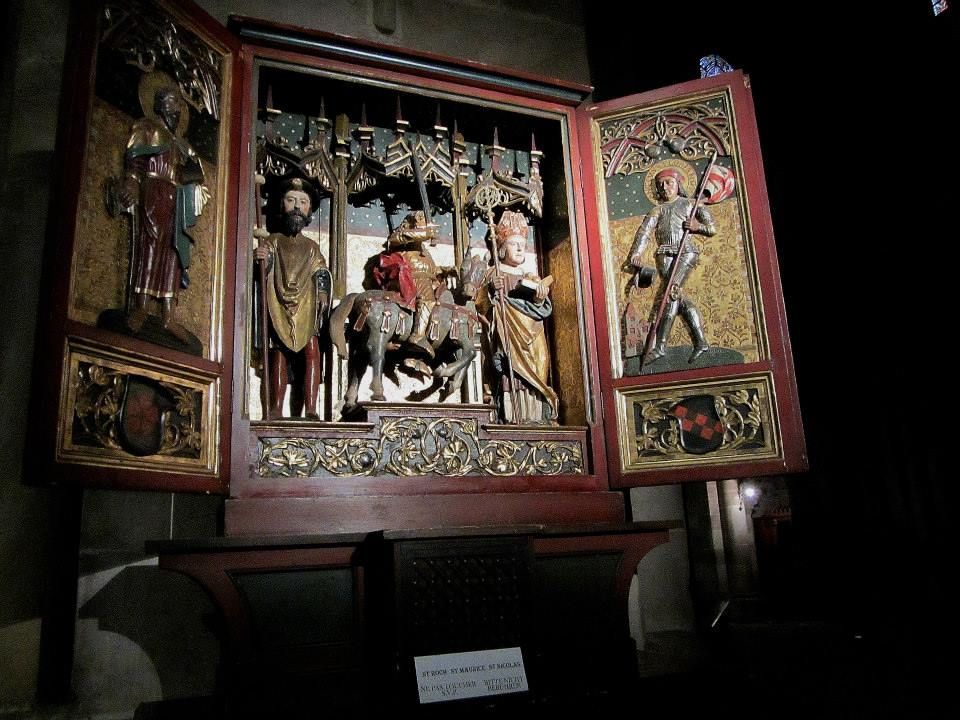 This is the Astronomical Clock. Apparently at 1230 every day, figures in different stages of life (child, teenager, adult, and old man) parade past Death while the apostles have a parade before Christ above them. During this, you'd hear the beating of wings and a cock crowing. If you'd be interested in seeing that it's 2 euro and tickets are sold from 9am to 11:30a in the postcard stand and from 11:30a to 12p at the South doorway. We were there well after that, during which admission is free, but they do charge to light up the area. We didn't feel like paying to do that, so it's not a great picture. To the left of it, which you can't really see much of, is the Pillar of Angels.


To the far left of the Astronomical Clock, there is an engraving in memory of the American soldiers who gave their lives to free Alsace 1944-1945.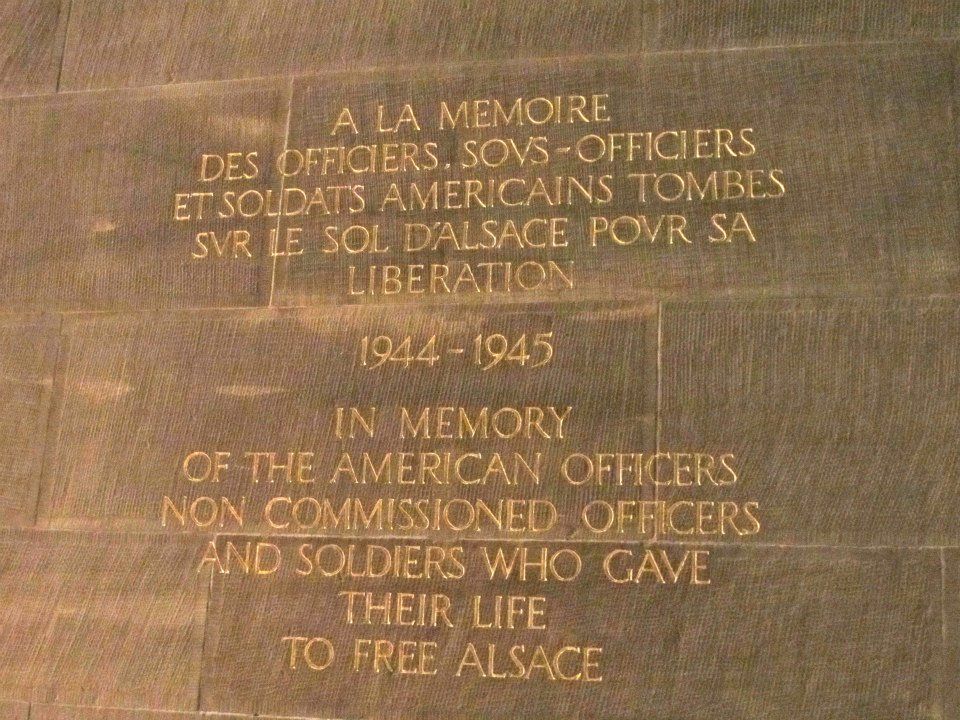 Also near the Astronomical Clock is this floor grate, which people throw coins into, kind of like a wishing well. As we wandered through the cathedral, I walked by a paper sign on one of the pillars that said "ATTENTION AUX PICKPOCKETS" (Watch out for pickpockets). It's kind of sad that such a warning is needed inside a place of worship, but I guess that's the world we live in.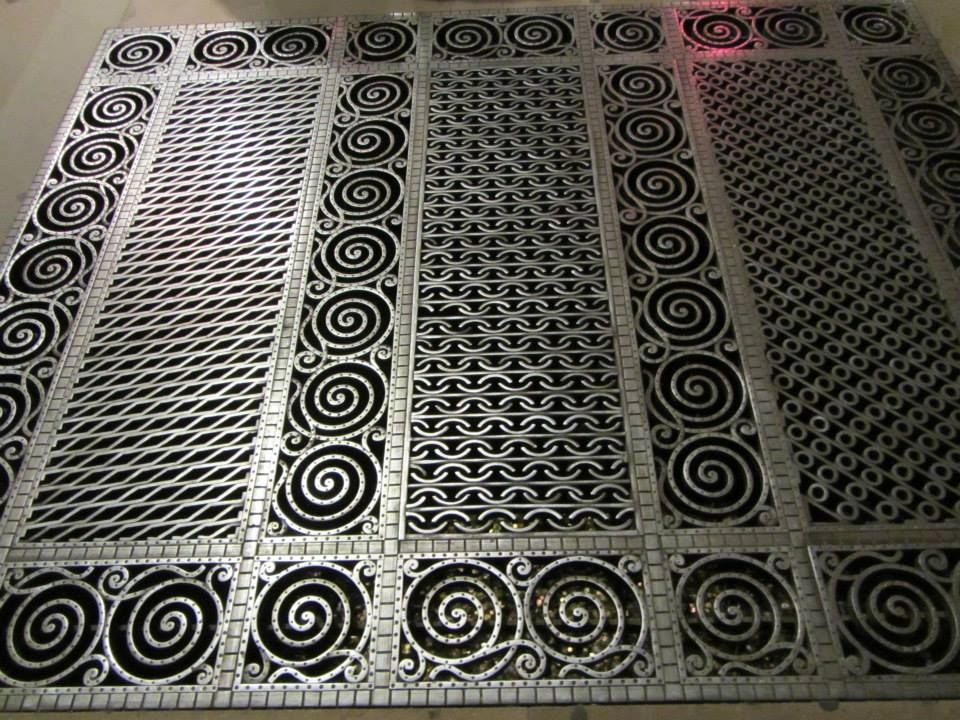 This is the pipe organ.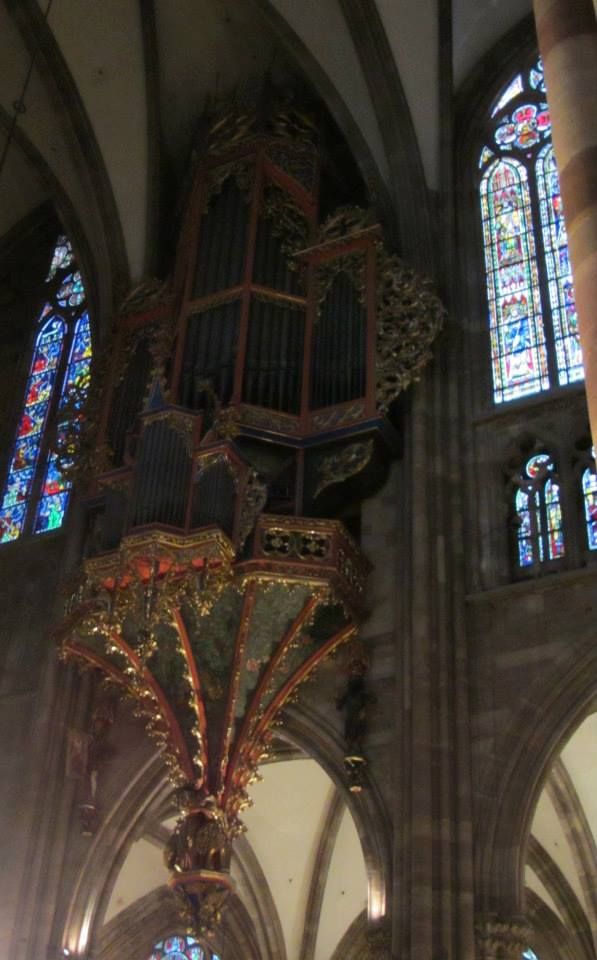 And this is one of the stained glass windows.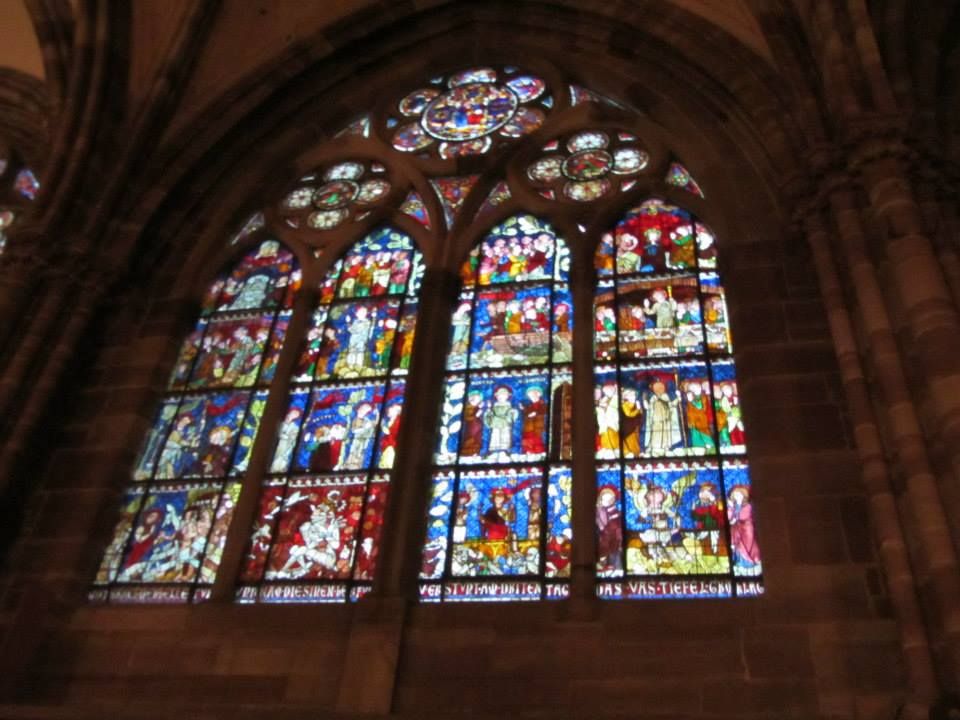 To be honest, I am not sure who this is meant to be. My guesses were either Saint Francis of Assisi or Saint Joseph, and I couldn't find confirmation of either. It looks like I wasn't the only one with that situation.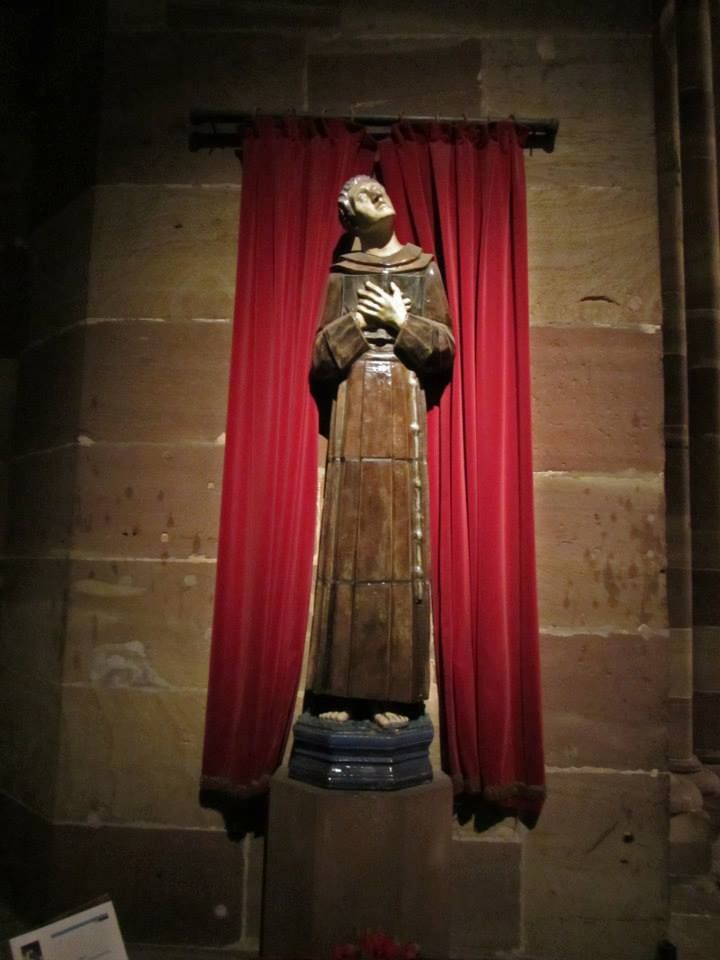 This is the view looking toward the front of the cathedral.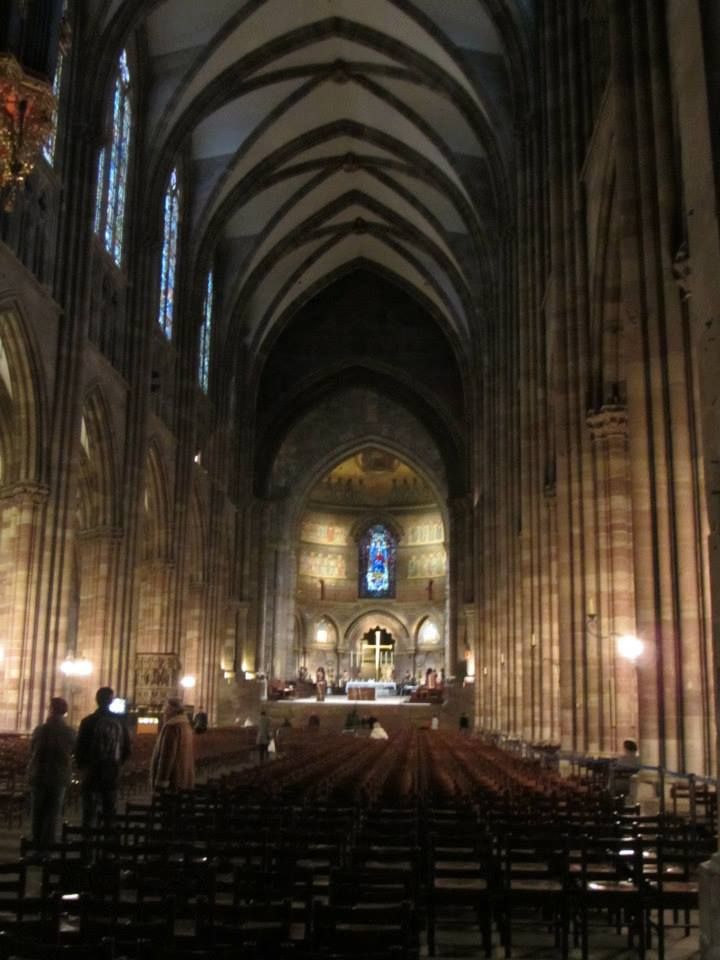 Apparently during certain hours there is also the option to walk up 332 steps to a platform for a view over Strasbourg. On the first Sunday of the month, doing that is free. (Most of Strasbourg's museums are free to enter on the first Sunday as well.) Of course, we were there on the first Saturday, and the regular rate is 5 euro. Although I'm a sucker for somewhere I can take a picture overlooking a city, such as the Philosophenweg, we decided not to take advantage of this one this time.
After the cathedral, we walked around some more. At one point, we saw holiday lights similar to those found near the Christmas market in Heidelberg. I don't know if they still turned them on at night since we didn't pass by the same area after dark, but I thought it was a bit odd to see them since it was February and the ones in Heidelberg had been taken down long before.
We also walked by the waterfront. Apparently the whole city center, known as Grande Ile (Big Island) is a UNESCO World Heritage Site. Here are a few pictures of the area looking over the River Ill.


We decided to find a place to eat dinner and then wandered the city a little more, but I'll tell you about that next time.
Related Posts: