When looking for a place for dinner, we tried to pick somewhere that sounded good and affordable based on the menus posted outside the doors. Many places that we passed were a little expensive. We ended up at Zuem Stadtwappe at 9 Place Gutenberg. It was also on the pricier side, but their menu was in German and English in addition to French, so we figured at least we would have no trouble figuring out what we were ordering.
We walked in a door near the register. Apparently that was the wrong door, and we got strange looks from a worker there. He asked in French what we wanted. My husband told him we were there to eat, and the man indicated it was okay. We sat down at an empty table, and I found menus next to it on the heater. Later, I saw people come in a different door, and the water directed them to a table and said he would bring them an English menu, so I wonder if we were not supposed to seat ourselves and if the menus still being at the table we sat at were a fluke.
When the waiter came up, he said something in French that I did not understand but assumed to be that he would be back in a moment. When he came back, he spoke French. When we did not answer immediately, he switched to German without skipping a beat. "Mochten Sie essen?" I understood that, but before I could even respond in German, he switched to English and asked if we'd like to eat. I think this actually worked out better as I am not sure my command of German is good enough for some of the other questions he asked me later, such as how I wanted my steak cooked.
He put paper down on the table, which he hadn't done at any other tables, so I guess most people weren't eating despite it being after 5pm. I decided on Rumsteak and asked for well done because my husband had told me French medium rare is more bloody than I would be used to. It ended up being a little more well done than I usually like, but it was good. There was also butter with herbs in it for the steak, and that was tasty also. It also came with pommes frites. I wasn't sure how the French eat them, so I used the German convention of eating them with my fork.
As we were eating, a couple of Americans walked in, and I overheard one asking for water. The waiter asked if they wanted Mineralwasser or stilles Wasser, and the guy kept saying "table water" and "tap water". The waiter looked thoroughly confused but finally brought them a pitcher of water. I hoped for the guy's sake it wasn't actually tap water, but I wouldn't be surprised since that was what the guy asked for. I had thought of letting them know that what they probably wanted was stilles Wasser, but didn't know if it would seem imposing. I later found out that it's not that uncommon to ask for tap water in France. If you do want that, it's eau du robinet.
It started raining again while we were eating and let up a bit as we finished. We decided to find our way back to the car but ended up taking a roundabout route and seeing some more of the city. I think some of these pictures may actually be from before we ate, but since the time was messed up on my camera and the only picture I had of the restaurant was atoward the end of the night when we walked back past it, I am not totally sure.
This is Place de la République/Kaiserplatz, a square in the "German quarter" of the city which has a war memorial in the center scultped by Drivier in 1936. It depicts a woman with two sons, one who died for France and the other who died for Germany.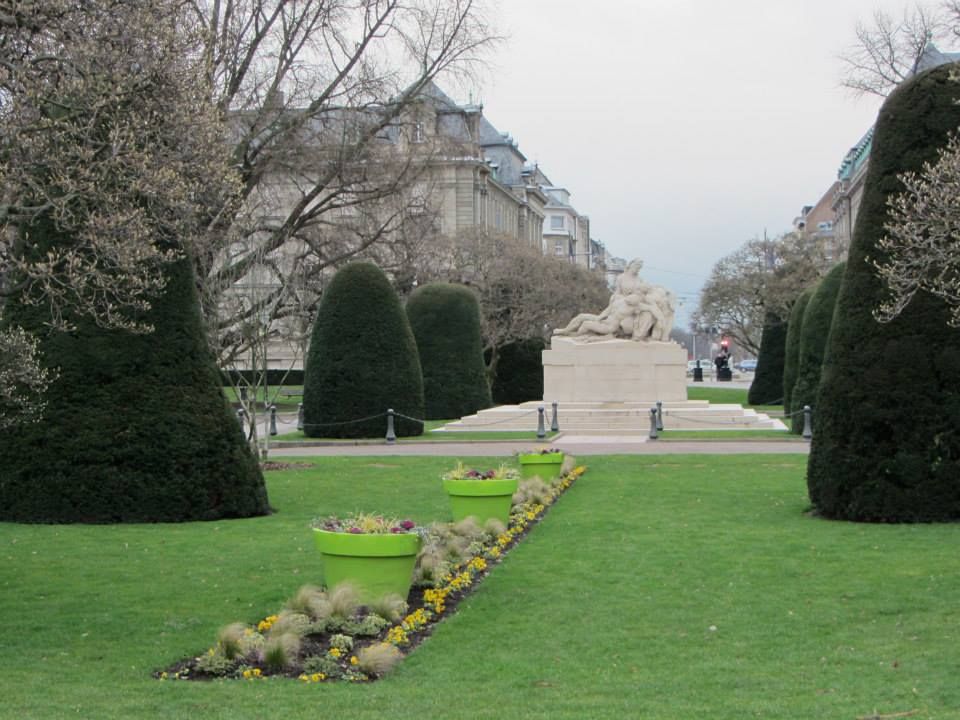 Here is a closer view of the memorial. It says "To our dead".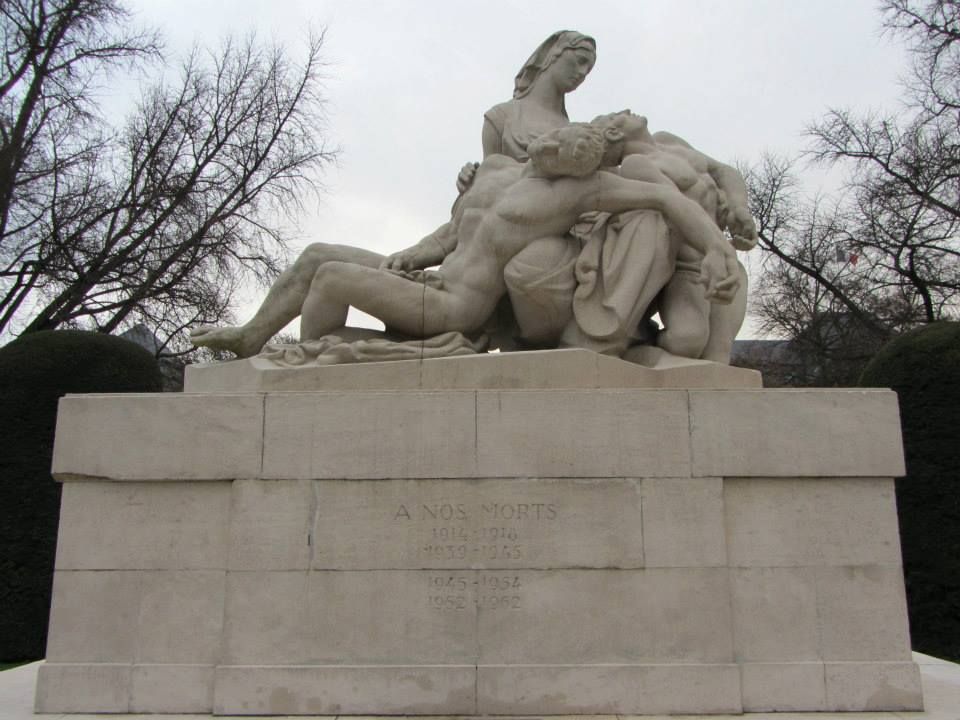 This is the view looking back in the direction from which we walked up to the Place de la République.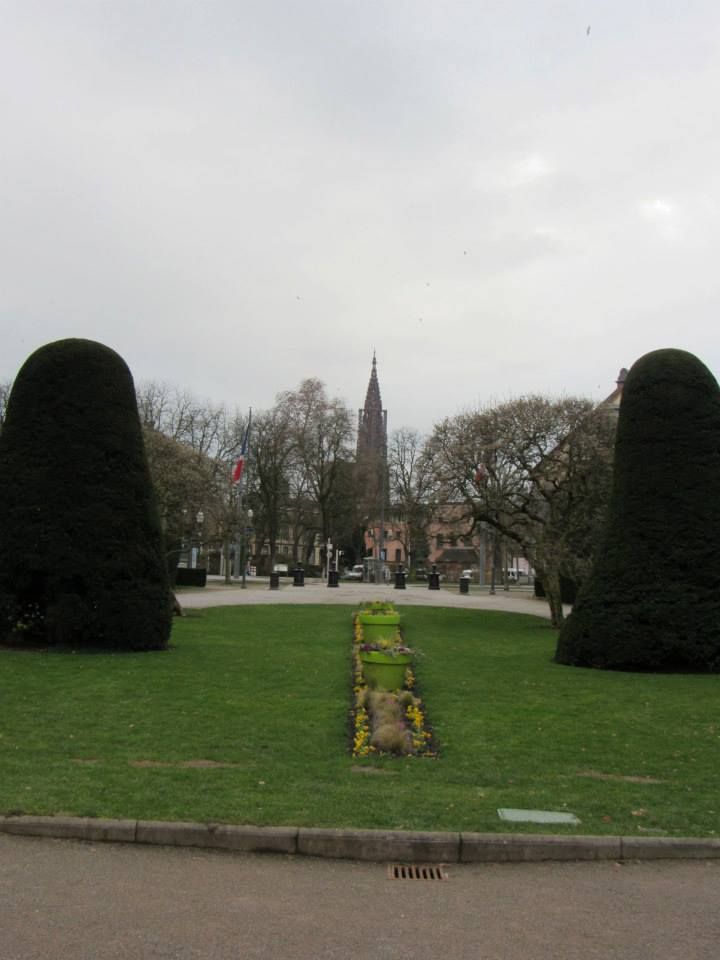 This is the Palais du Rhin (Palace of the Rhine), the former Kaiserpalast (imperial palace), also in the Place de la République.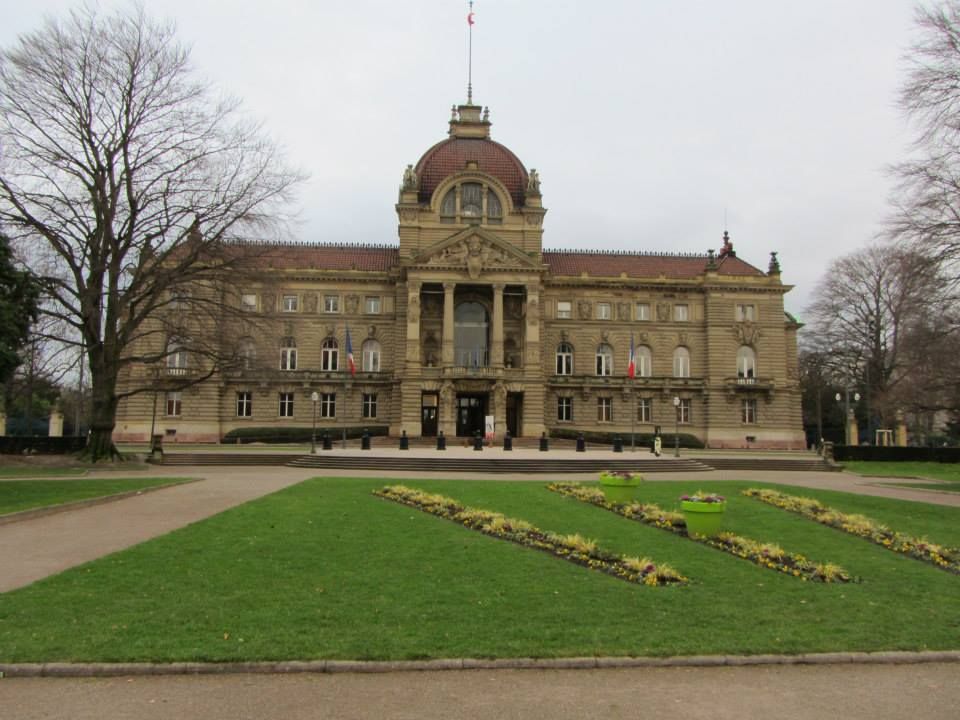 This is in another area, Place Broglie. When we walked up, we were not sure what monument was but figured it was a war monument.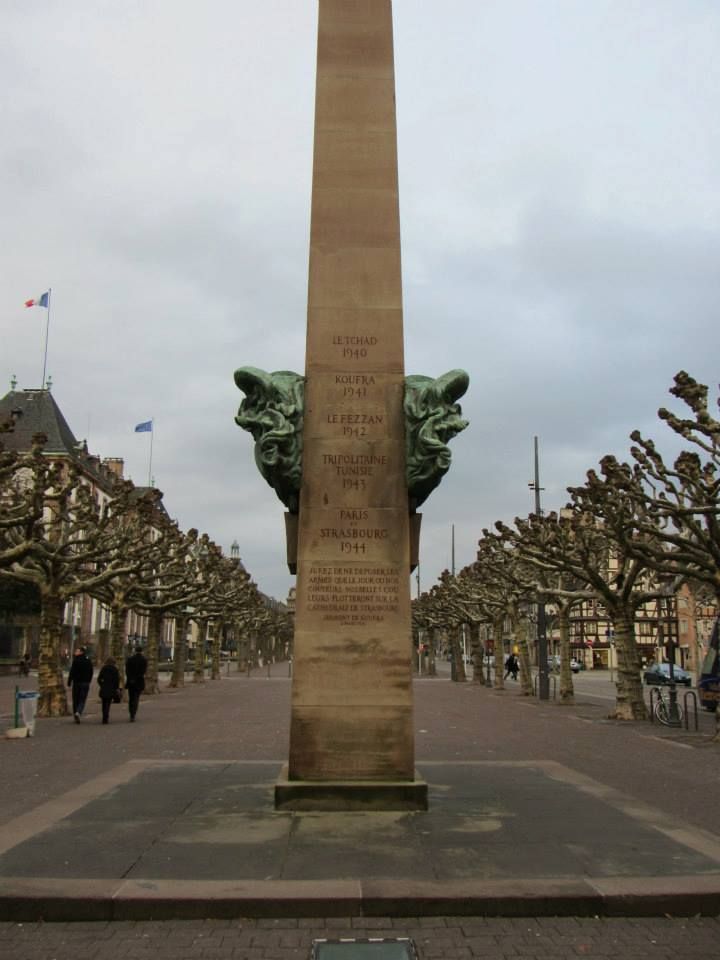 We passed it and turned around to see that it is a monument to General Leclerc, who liberated Strasbourg with the 2nd Armoured Division on November 23, 1944. I believe the building behind it is the Opéra de Strasbourg.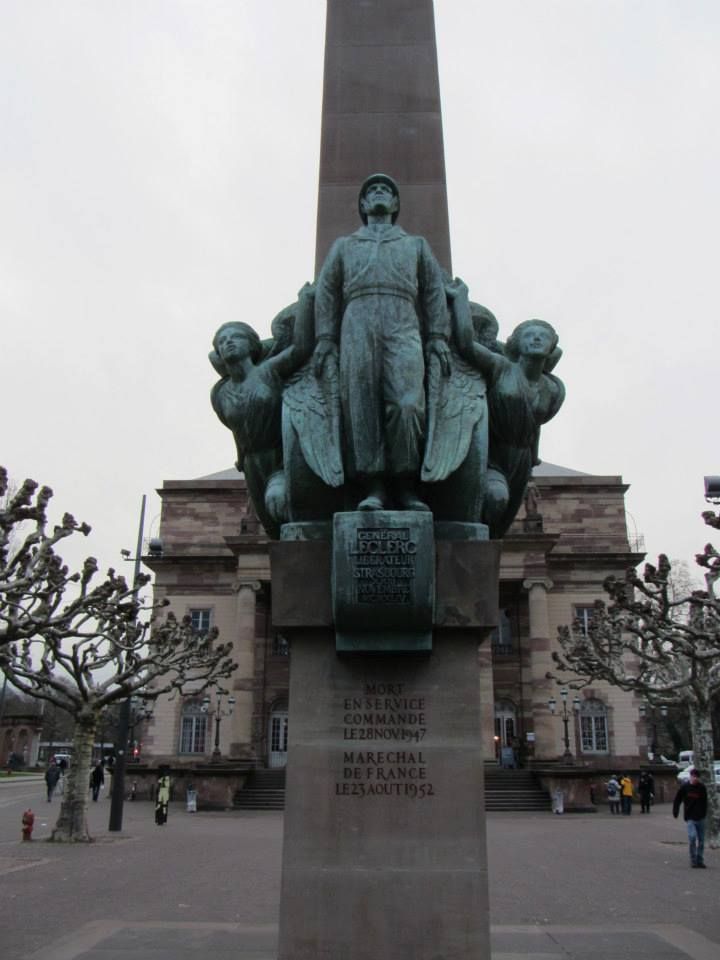 This was taken looking down the walkway past the monument. Apparently during the holiday season, Place Broglie is the site of Strasbourg's Christkindelsmärik (Christmas market).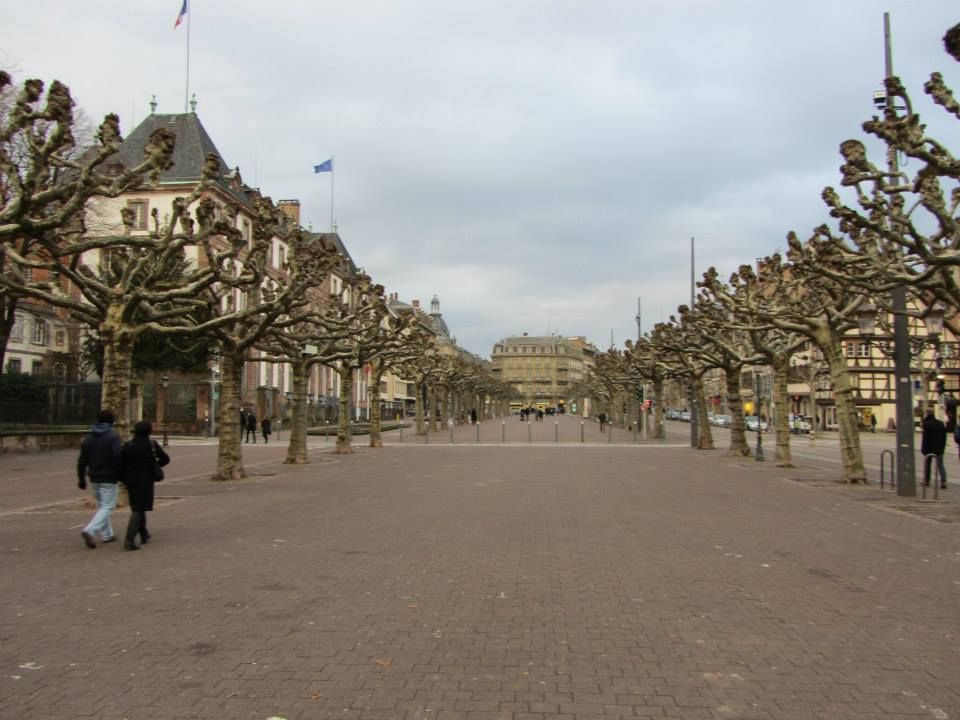 This is a statue of Johannes Gutenberg, the first person in Europe to use moveable type printing and of course the man who made the Gutenberg Bible, the first book printed with moveable type in the west. It's at Place Gutenberg, near Zuem Stadtwappe, the restaurant we had eaten at earlier in the day.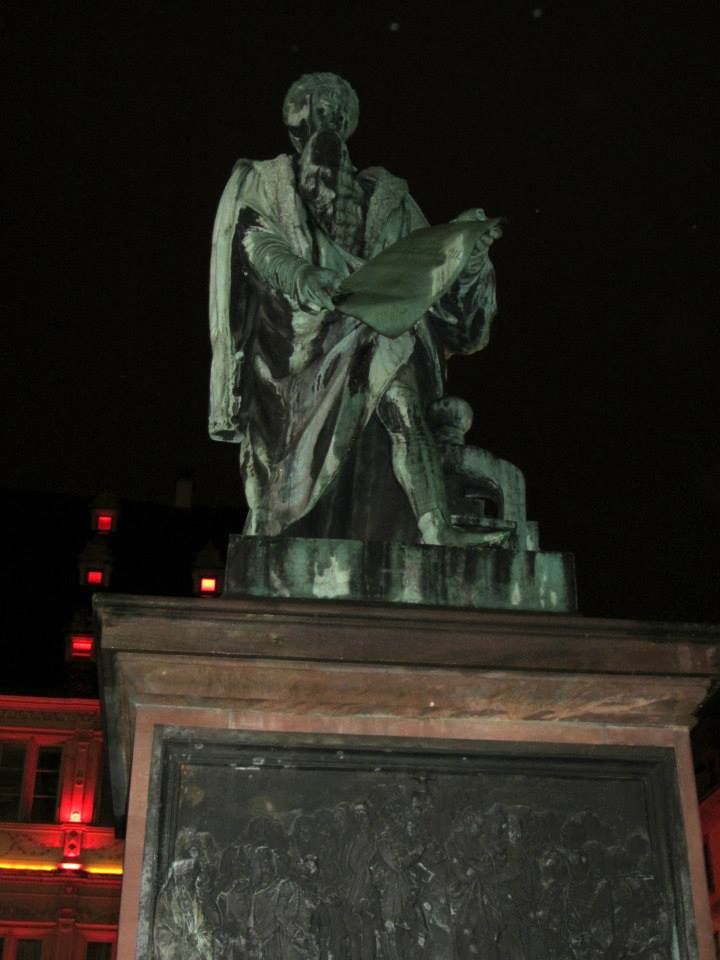 On the way back to the train station, we passed the River Ill again.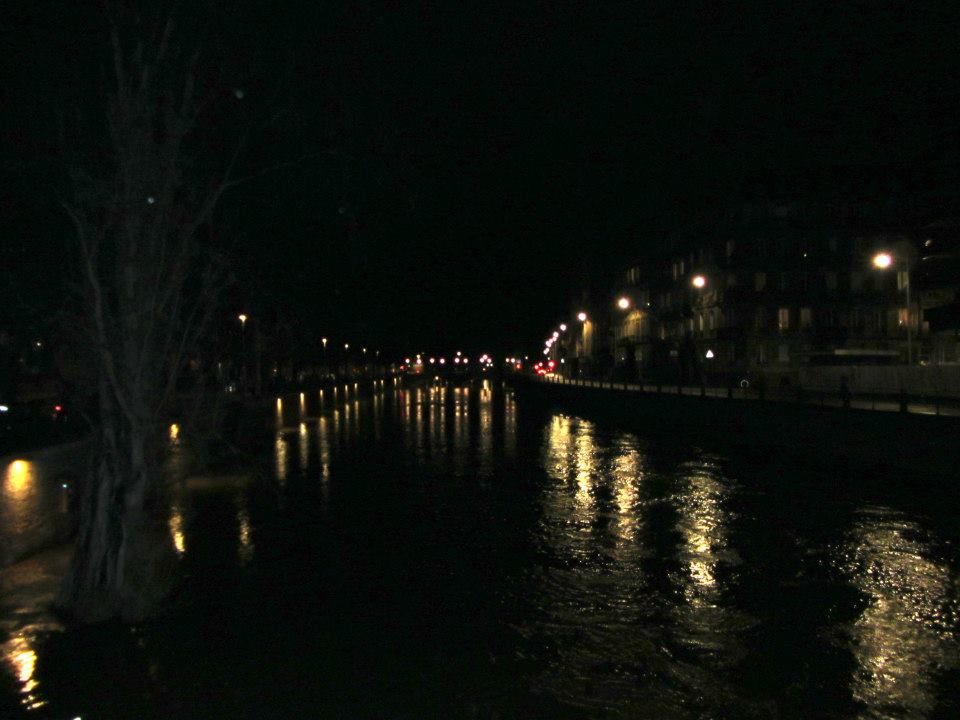 As we wandered around Strasbourg, one word I kept seeing was Librairie, which I quickly figured out means "bookstore". I am not sure if I just started noticing them too late in the afternoon or if there was something going on that day, but most of them were closed. I thought since it seemed like there were so many of them it might be fun to go back to Strasbourg and check some of them out sometime. At least according to Yelp there are 32 bookstores in Strasbourg. That sounds like a wealth of bookstores for one city to have, but apparently there were more than double that in Heidelberg, and I never knew.
If you missed them, check out Strasbourg Part I and Strasbourg Part 2.
Related Posts: