Heidelberg's Army Child Youth & School Services held a science fair on April 20th at the middle school on Patrick Henry Village. Kids could go from booth to booth trying out different projects. Many of the booths were operated by staff from the PHV Child Development Center, including myself. While the turnout for the science fair was much smaller than we'd hoped, it was still a pretty cool day. I got exposed to a lot of interesting projects, some of which I'd never heard of before. And I got to do something I never expected to do: see Patrick Henry Village from above.
Among the projects were goo made with cornstarch, food coloring and borax; a 'bouncy' egg, which didn't actually bounce but was 'bouncy' to the touch because it had been soaked in vinegar; making play dough; a demonstration of cleaning a penny with vinegar; and mixing powdered tempera and water and blowing bubbles while a paper was held over it to make a 'bubble painting'. I was originally going to take over the penny project if the girl who was doing it couldn't make it, but since she did I took over our trainer's project, which I had never heard of until he told me about it: tie-dyed milk.
To make tie-dyed milk, you get a plate, pour some milk on it (we used skim but I don't think it matters), arrange some drops of food coloring however you like and then add Dawn dish soap for a tie-dyed effect. When I first started the project, I was just putting a drop of soap in the center, and it spread out and changed it, which was cool. But a teacher came over with toothpicks and told us that you're actually supposed to put the soap on a toothpick and then touch it to the milk. This did seem to yield more interesting results. She also said that Dawn dish soap is the best to use because of the grease-cutting agent in it which is what accounts for the effect. This picture is from someone who used the drop of soap in the middle of the milk method.
Tie dyed milk ended up being one of the more popular projects. Most of the staff loved it. A couple of girls at the fair did it several times and said it was the best thing they'd done there. The girls ended up taking two toothpicks each and experimenting with touching them in different places. Since it had been so popular, I decided to swap out an art activity I'd come up with for the tie dyed milk experience on my next lesson plan. Because I was working with toddlers, rather than trust them with tooth picks and dye, we just had them gather around to see the experiment in progress a couple of times and talked about the different colors.
Another feature of the fair was an egg drop where students brought previously made creations in which to put an egg and see if it would survive a fall. A man from the local fire department came with a firetruck and took the kids up in the lift so they could drop their eggs from what he said was 104 feet up in the air. Two students managed to make creations that spared their eggs a messy fate. The firefighter was gracious enough to allow the staff also to take trips up to see the view over Patrick Henry Village. Regrettably I had left my camera behind (you'd think I'd have learned not to do that in Germany because there's always something cool to photograph). Fortunately, a friend had brought hers, and she went up with me to take photos, which she was kind enough to let me share with you.
Of all the things I might have expected when I showed up to work the science fair, getting a view over Patrick Henry Village from a firetruck's lift was not on the list. I guess it just goes to show that you never know when an opportunity for an adventure will present itself. Hopefully next time I'll have a camera with me, but I'm glad that this time Billi did.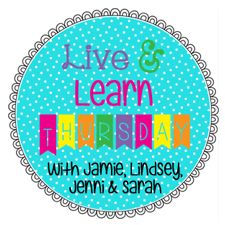 I was already planning to share this post today, but since it happens to be Thursday and I learned how to make tie dyed milk and that I should always bring a camera with me, I thought it would make a good post for Live & Learn Thursday. If you want to share something you've learned, head over to The Crafty Practitioner and add your post to the link up.
Related Posts: