On a weekend toward the end of April (last year, obviously, because I'm still that far behind), I had wanted to go to Luxembourg. However, my husband pointed out that we'd be an hour closer when we moved to Kaiserslautern (which we did in June), so I picked Ludwigsburg instead. As seems to be the trend for us, it rained on the day we decided to go, and it kept raining all day. Instead of wandering the city, we decided to just see the Residenzschloss (residential palace). I was working a special outdoor event in the morning for Child, Youth & School Services (which was more or less a bust thanks to the rain). So we went in the afternoon. Unfortunately, we didn't leave ourselves a lot of time to get there before the last English tour, and there was an accident blocking a road before the parking area, so we missed it by a few minutes. Here is the view as we crossed the street in front of the Schloss.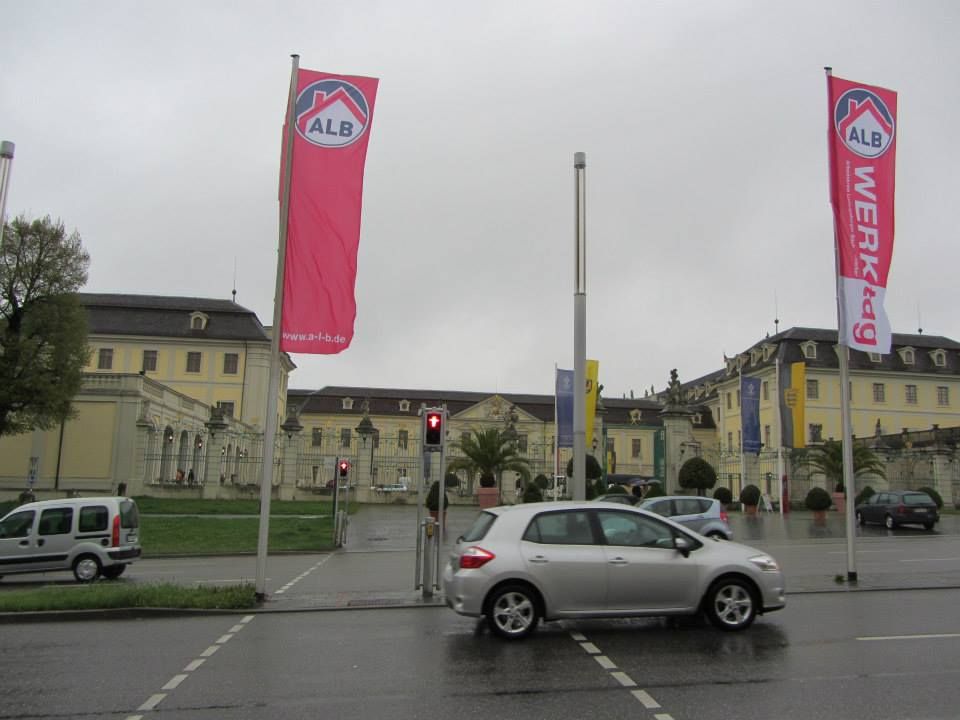 When we went inside, a lady at the information booth asked "Konnen Sie mir helfen?" (Can I help you?). I asked if she spoke English, which she did, so I asked if I was reading the sign correctly that the English audio guides were only for the specific museums. In addition to the residential palace, the favorite palace, and Carl Eugen's apartments, there's a Keramikmuseum (ceramics meseum), Modemuseum (fashion museum) with clothing from the 18th through 20th centuries, a Barockgalerie (Baroque gallery), and an interactive exhibit for children called Kinderreich. There is also an option to tour the Favorite Palace. You can see the prices for different options here.
She said the guides were for some of the museums and that she would like to tell me I could take an English tour for the residential palace, but we missed the last one. She explained the different museum tours they offer and then said that there was a German tour of the residential palace at 4pm, and she could give us an English map to follow along with, so we decided to do that.
We went to the ticket desk to get the tickets. The woman there asked if we were students. We told her we were but that we didn't have student IDs on us. She gave us a rate of 3.50 euro each rather than the usual 7 euro. We could have also toured the garden, but it cost additional, and we decided to skip it due to the rain. Fortunately there was a brief break in the rain in the half an hour we had to wait for the next tour to start. We decided to wander the grounds a bit. Here are a few photos of various parts of the outside of the Schloss.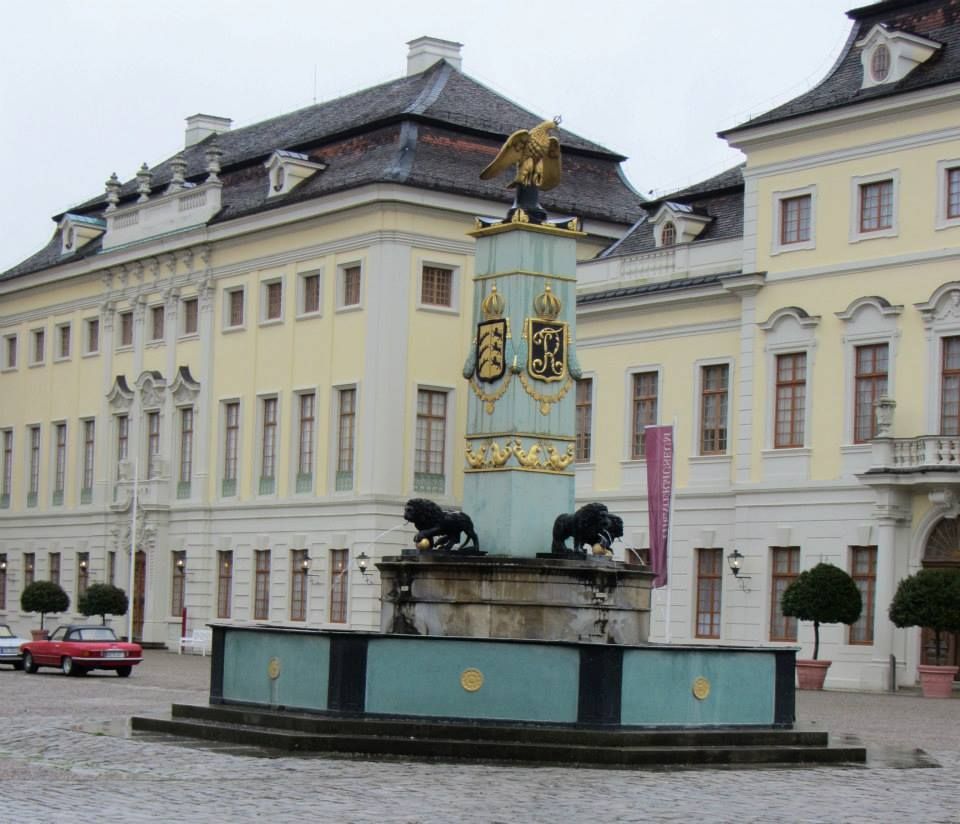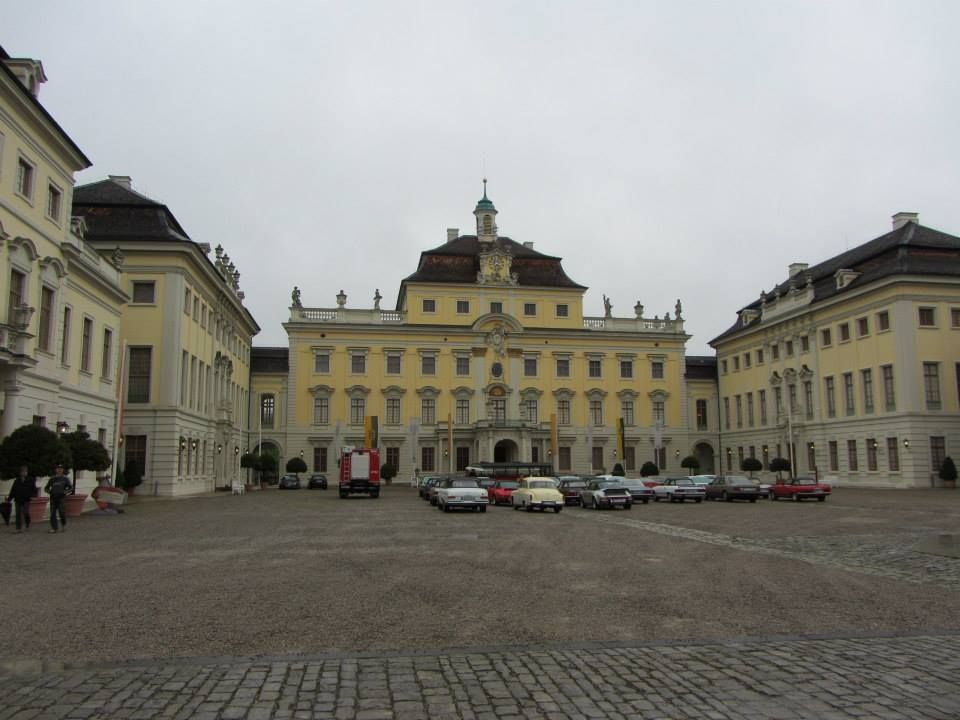 Near the garden, they had some kind of event going on where people sawed a log and people, including kids, could ride in an excavator. They also had a stand with food where my husband got a bratwurst and coffee for under 5 euro.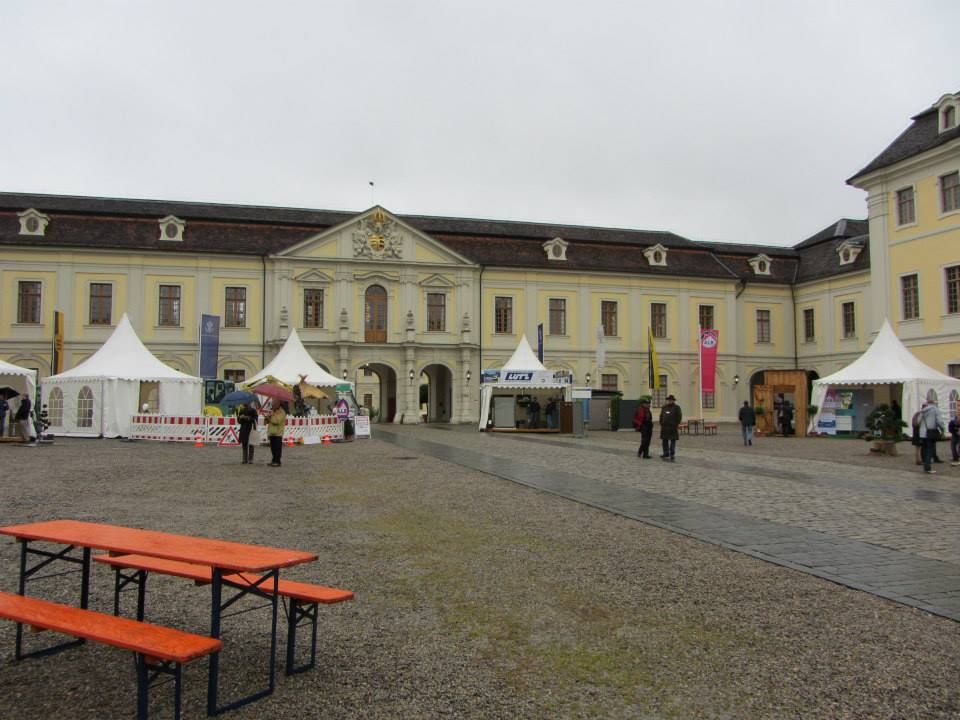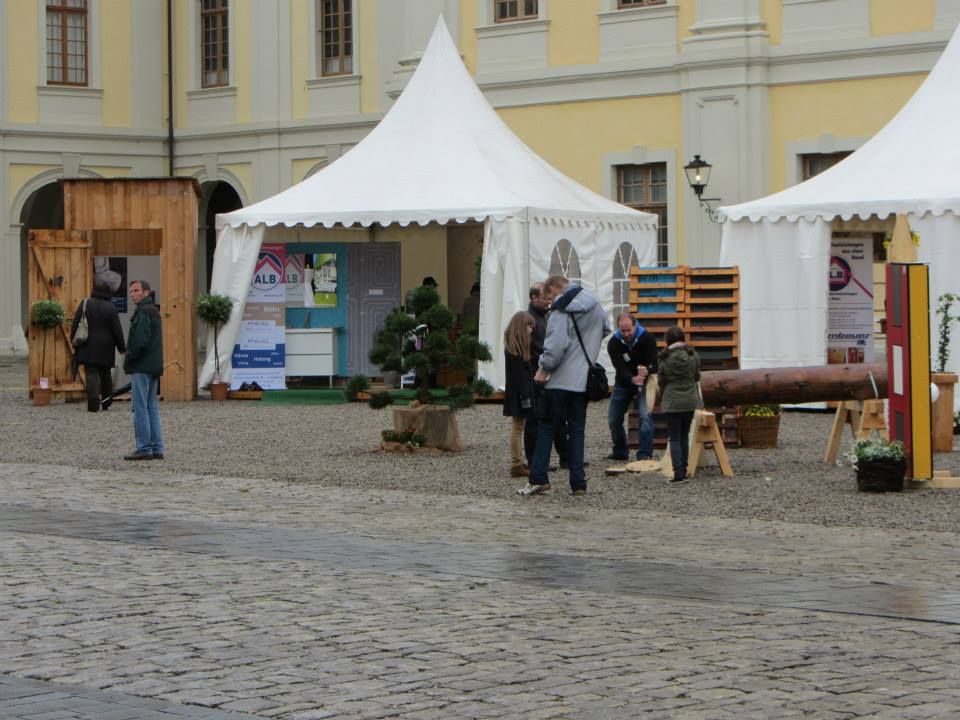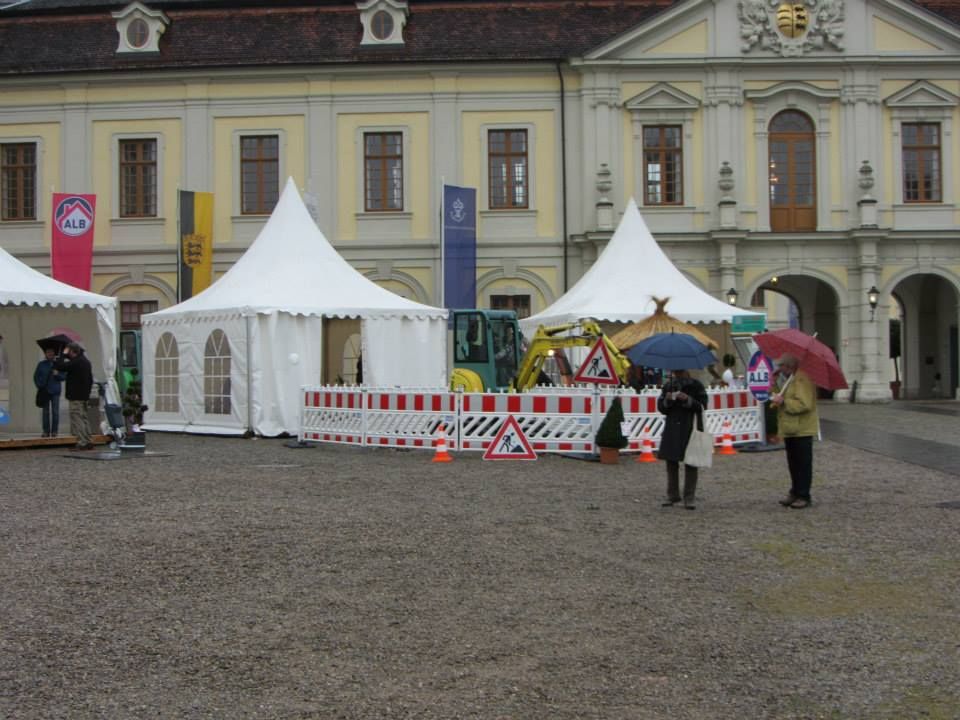 We hung out in that area until it was close to time to go in. The first photo is looking toward the entrance to the tour. It's followed by close ups of the statues on either side of the entryway. The last picture is the doorway we went into.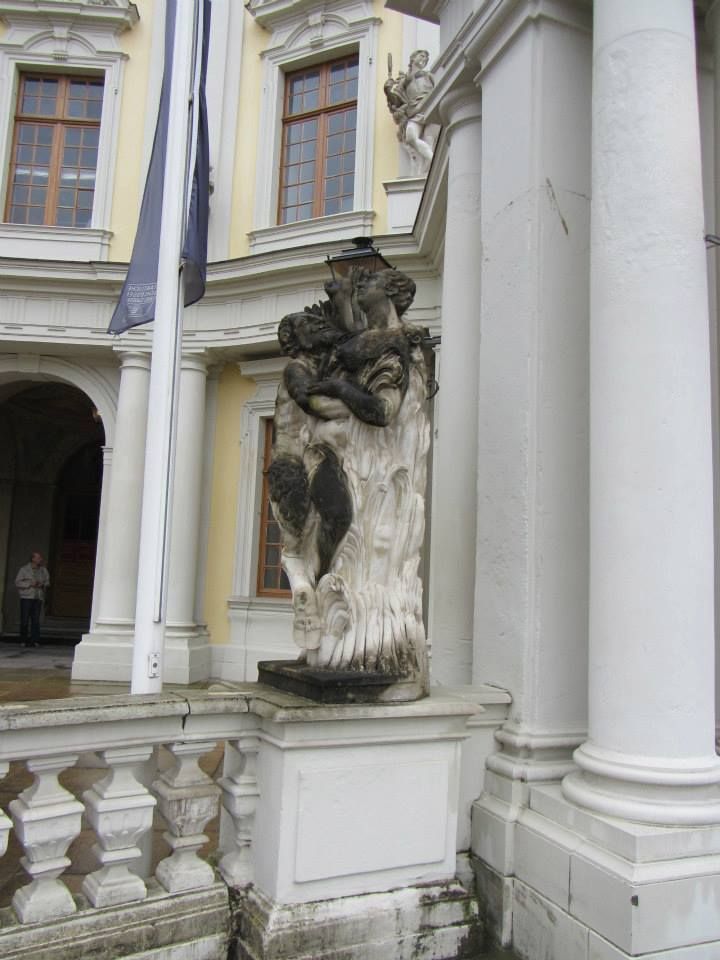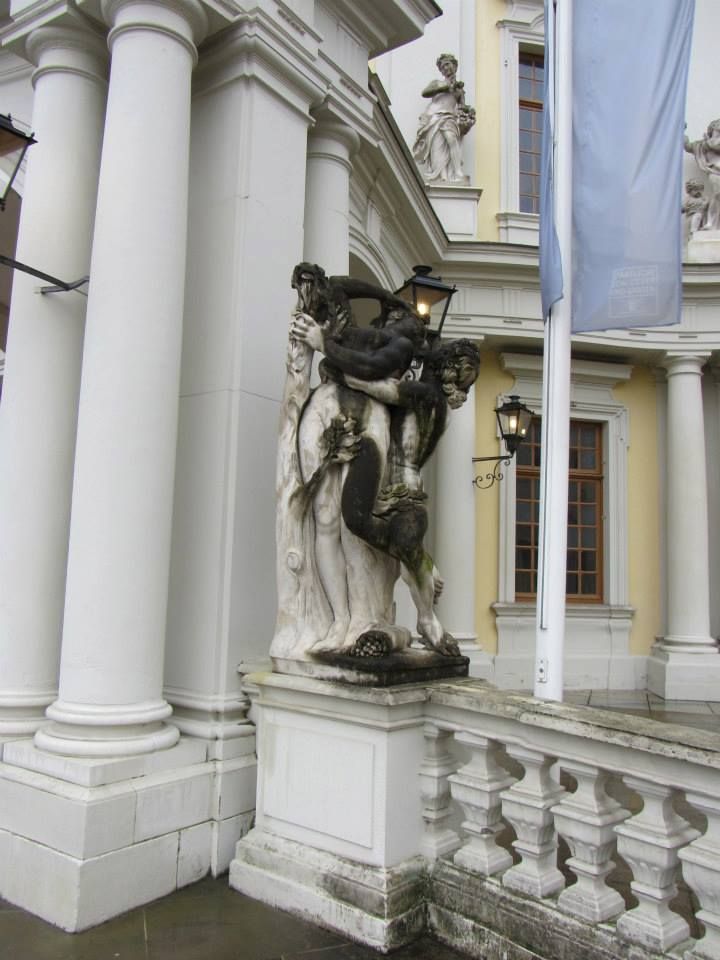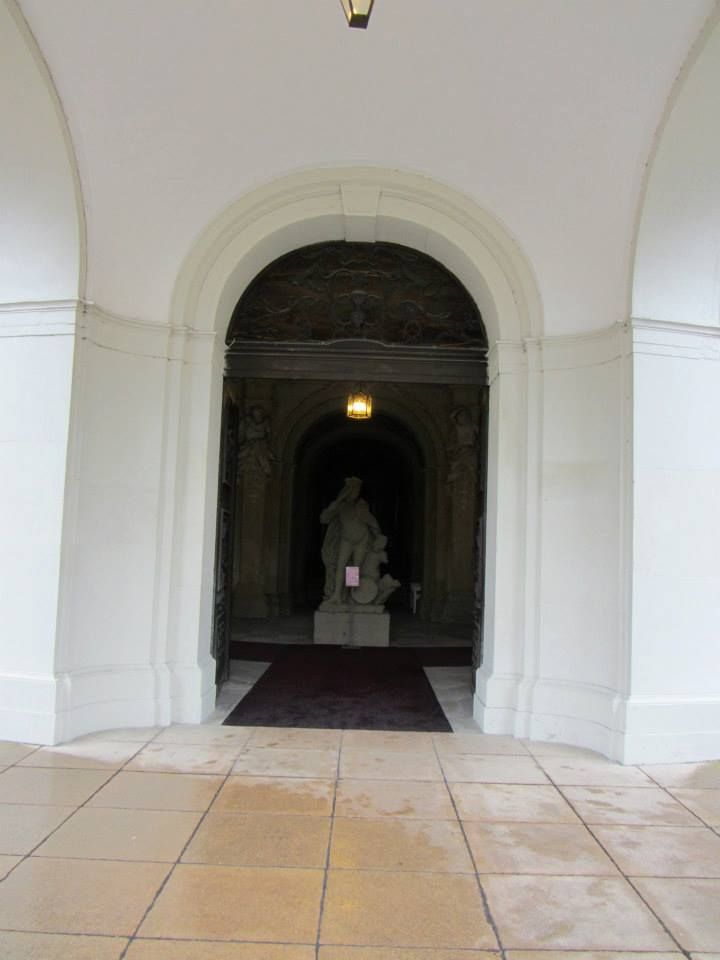 Unfortunately the tour itself didn't allow photographs, but their website has a few pictures of the inside including the Schlosstheater (palace theater), one of the oldest theaters and Europe and the oldest palace theater in Europe. There was a couple in the palace having their wedding photos done, but I'm sure they probably paid quite a bit for the privilege. At one point they were behind us in the Marmosaal (marbel hall) (which there is a picture at the site above), but later they ended up ahead of us in one of the bedrooms. We were still able to go in to the room while they were in there. It felt a bit intrusive on one hand; on the other, I feel like they probably wanted to be seen since they were having their photos done in such a public place.
Before we went in to the bedroom, I heard a woman talking who seemed to be angry about them being there. She ended up coming up next to me and started talking to me, but I couldn't understand most of what was said. I heard her say something about them being Turkish, so I said "ah ja" and nodded to what she had said next, which sounded like she was asking if I agreed with her. I kind of felt bad I didn't tell her I didn't understand everything, but there wasn't really time to get it in before we moved on to the next room.
Because the tour was in German, and I'm not that fluent, I didn't really pick up a lot of what was going on. The map had some information, but only enough to get the gist of what each room was about. There was another tour guest translating some of the tour for a girl who spoke English (my guess was she was a foreign exchange student as everyone in their group seemed to be German) so I did get to hear bits and pieces of what was going on when I was standing near them.
Although I held on to the map and vaguely remember jotting some notes about things I had heard, I seem to have misplaced them both. By now I really don't remember much about the interior, and I honestly wonder if some of the things I think remember are actually things about other palaces we've seen. Even though we haven't seen that many, they do seem to run together a bit. Overall, it was an interesting experience, but I probably would have absorbed more information (and remembered more of it) if we'd made the English tour instead. Better luck next time.
Related Posts: