The first thing we decided to do when we headed out from our hotel in Lloret de Mar, Spain was to find something to eat. As we walked, it quickly became apparent that the city has plentiful drug dealers and prostitutes. People walk past you muttering the names of different drugs they have on offer, "Marijuana…hashish," so quietly at first you almost wonder if you really heard them. Others are a little more obvious: "Hey want drugs?" Some girl that I'm pretty sure was a prostitute walked up to my husband with me walking right next to him and asked if he wanted to go to a Diskoteka. The tour guide later mentioned to us that Lloret is a Russian mafia city. If that's true, I'm not surprised.
We ended up popping into a random restaurant, Canaletas 1931, to eat. Originally we had just planned to stop in McDonald's, so I hadn't taken my camera, but we ended up walking past it the next night, so I took a picture then.
I had a "pizza tropical" which was mediocre. I also had a small daiquiri, which was better. As worthwhile as it might have been for the price, I am kind of glad I did not get a medium because it was huge, and  I was not in a mood to drink quite that much that early. Here I am in a picture taken by a friend holding my small up next to her medium. The lei is also from this restaurant.
It started to rain while we were there but let up. After it did, some friends wanted to check out a bar. We ended up in Rob Roy Tavern, a Scottish pub, pictured here. A friend asked for Irish car bombs, which I'm not a fan of. The bartender said he didn't have them and it's not an Irish pub. They did have Guinness, however. Here's a couple pictures a friend took of Tim and I while he enjoyed his Guinness and we "arm wrestled".
We decided to stop by another bar I don't remember the name of, but it was really crowded because Germany was playing someone in Fussball. We switched to a new bar I also don't remember the name of. There was a dinner buffet at the hotel, so we stopped by it but there wasn't anything I felt like eating.
The sun came back out and our hotel wasn't far from Lloret Beach, the largest beach in Lloret de Mar, so we decided to walk down there. On the way, we saw a carousel, and of course I was excited to see some more palm trees.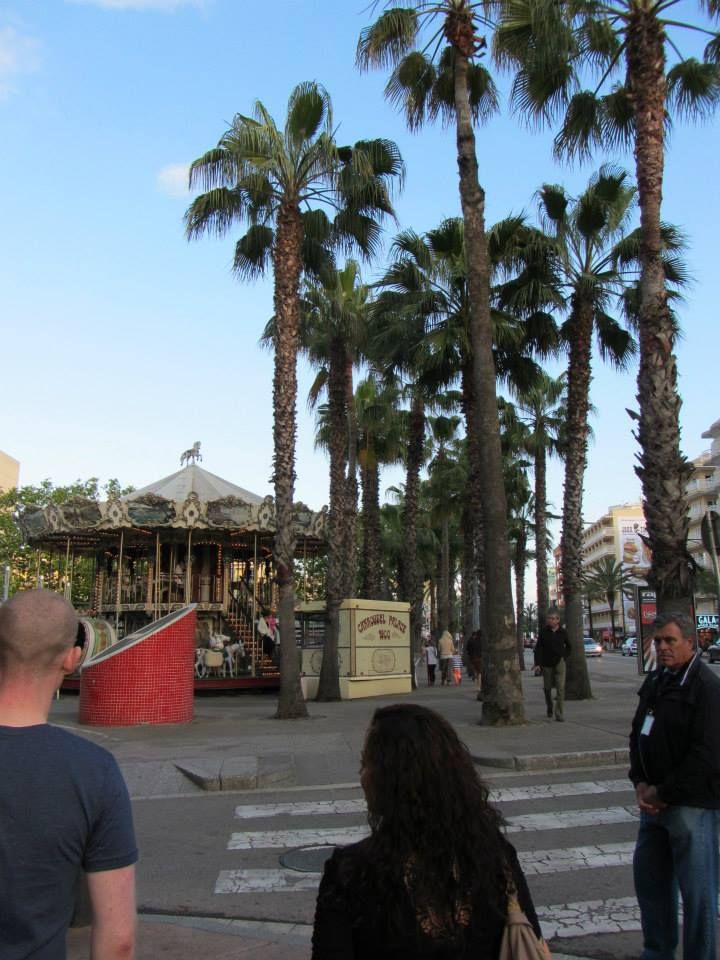 This was my first picture looking out over the Mediterranean Sea from Lloret Beach.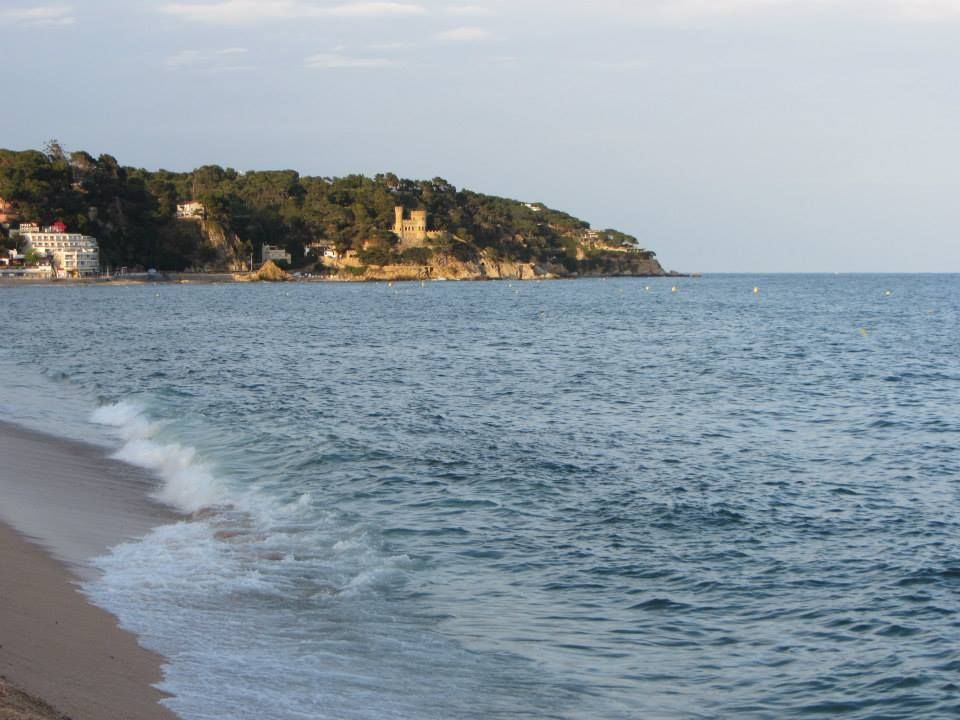 This little castle, which sits at the end of a second beach called Sa Caleta, is a house castle called Castell d'en Plaja. It was built for Narcís Plaja by Isidor Bosch. I'll tell you about exploring that area later.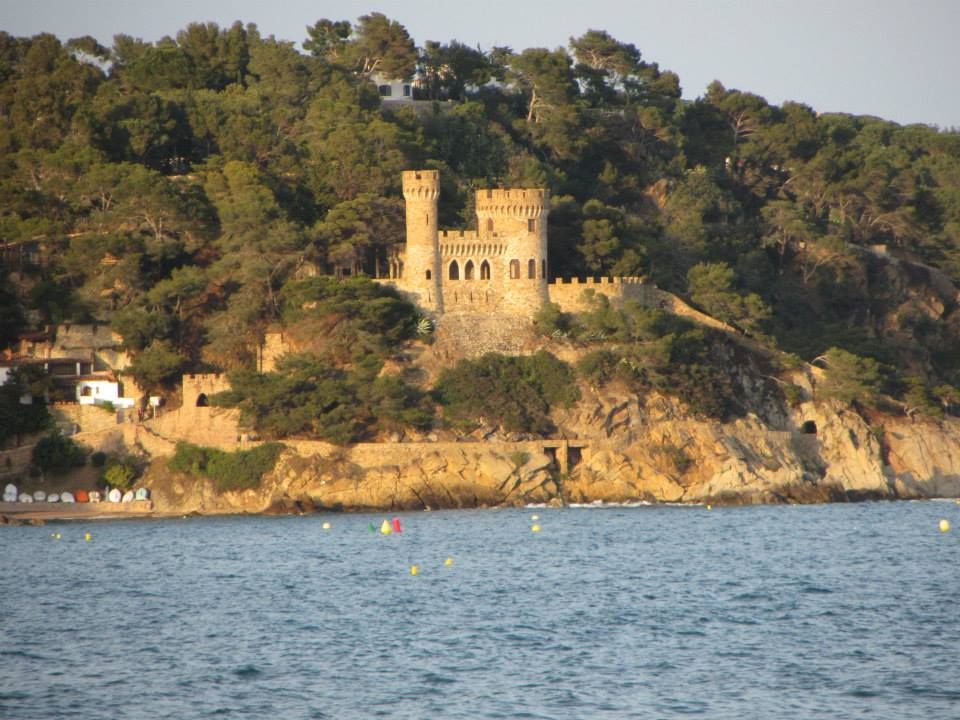 We were told ahead of time that the beach sand is more like gravel so we would know not to expect to walk barefoot on it. We later learned that the gravel is trucked in. I was thinking it would be the grey rock type, but it was more like pebbles. In any case, as expected, it was uncomfortable to walk on. I do not recommend sandals, which is what I had worn. I learned from someone who had been to Lloret de Mar before that there is another beach with white sand. This was confirmed by a friend on our trip who had seen it while on a boat ride. I wish someone had told us as actual sand is much nicer to walk on. I'm guessing the beach they saw was Canyelles Beach. Apparently Lloret actually has several beaches.
On the opposite end of Lloret Beach from the castle house is a walkway which apparently leads up to a statue called the Dona Marinera (Fisherman's Wife). We never ended up going up there though.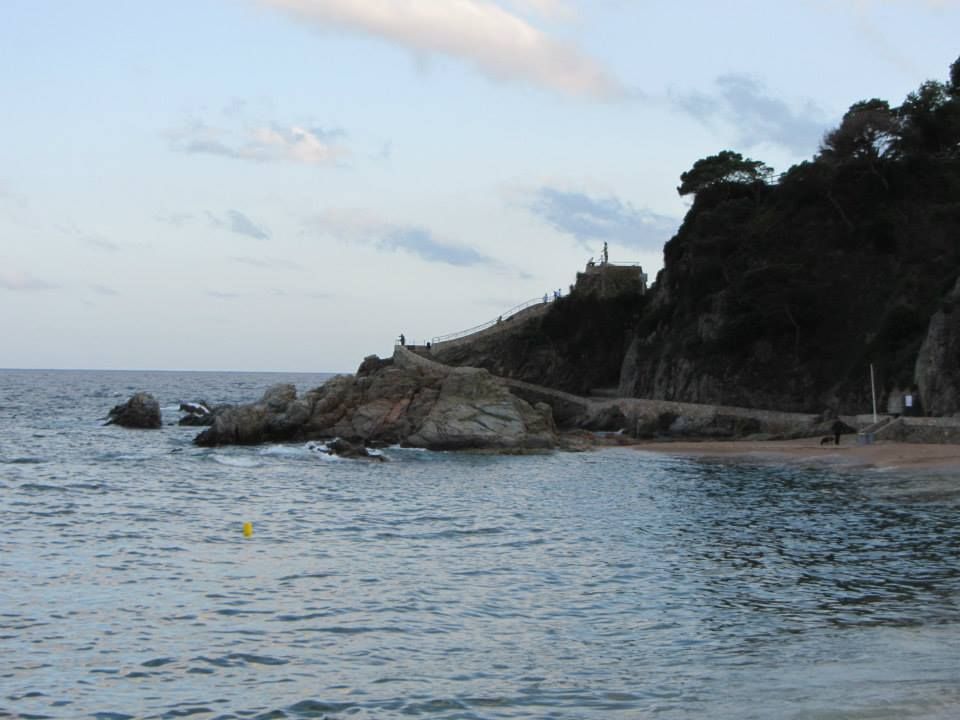 This is the view of the street that faces the water.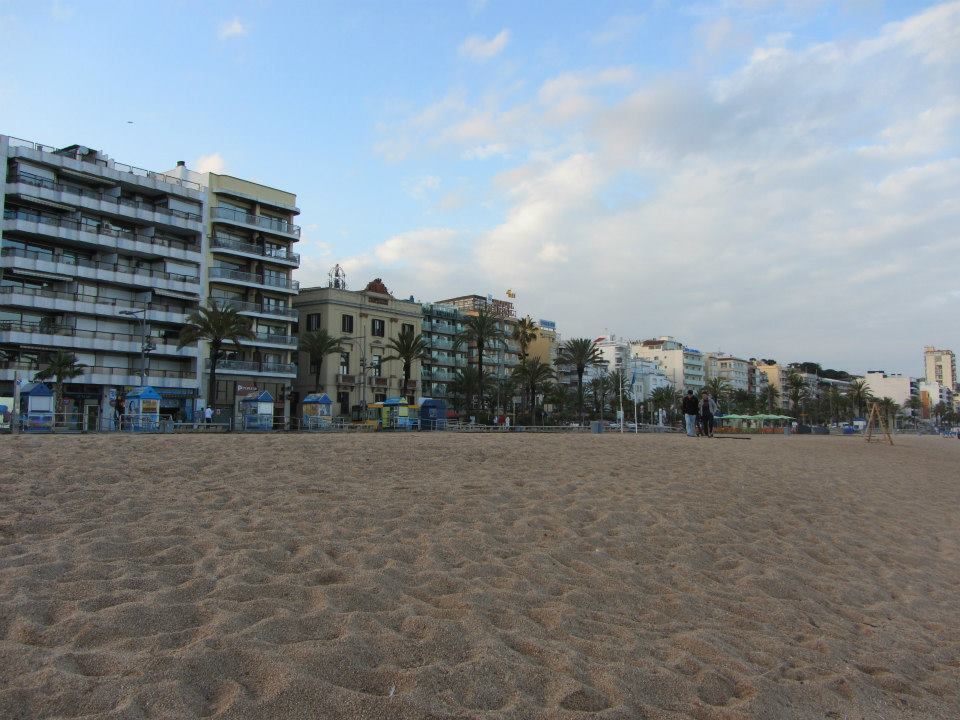 This is Tim looking out at the sea, apparently contemplating going for a swim.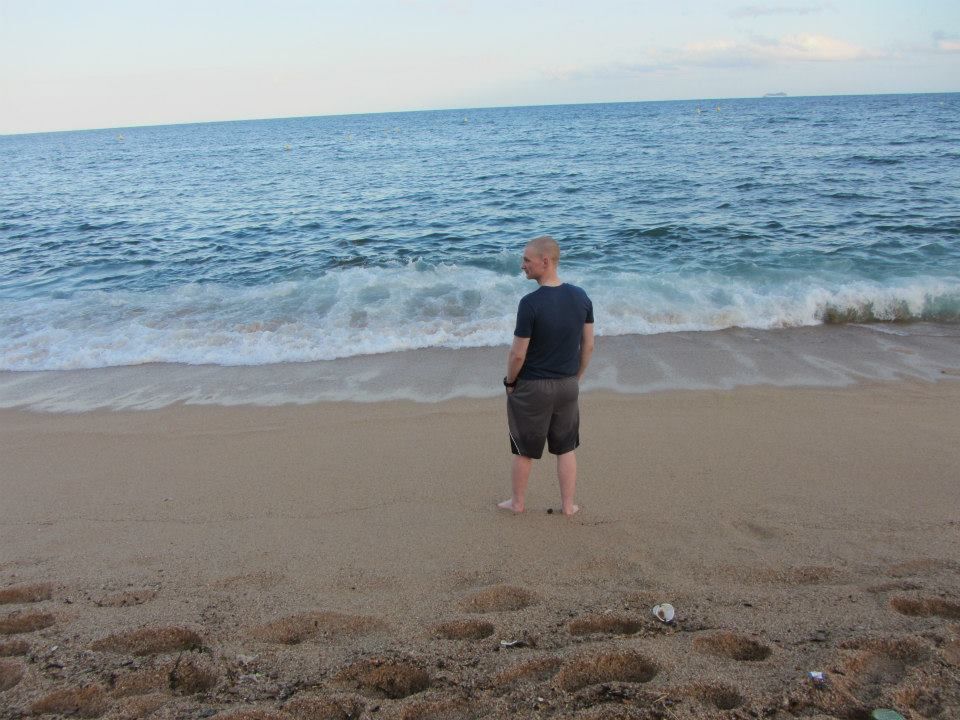 He said it was cold. I took his word for it. Even the air was chillier than I prefer. I was happy just to take pictures and enjoy the sound of the waves.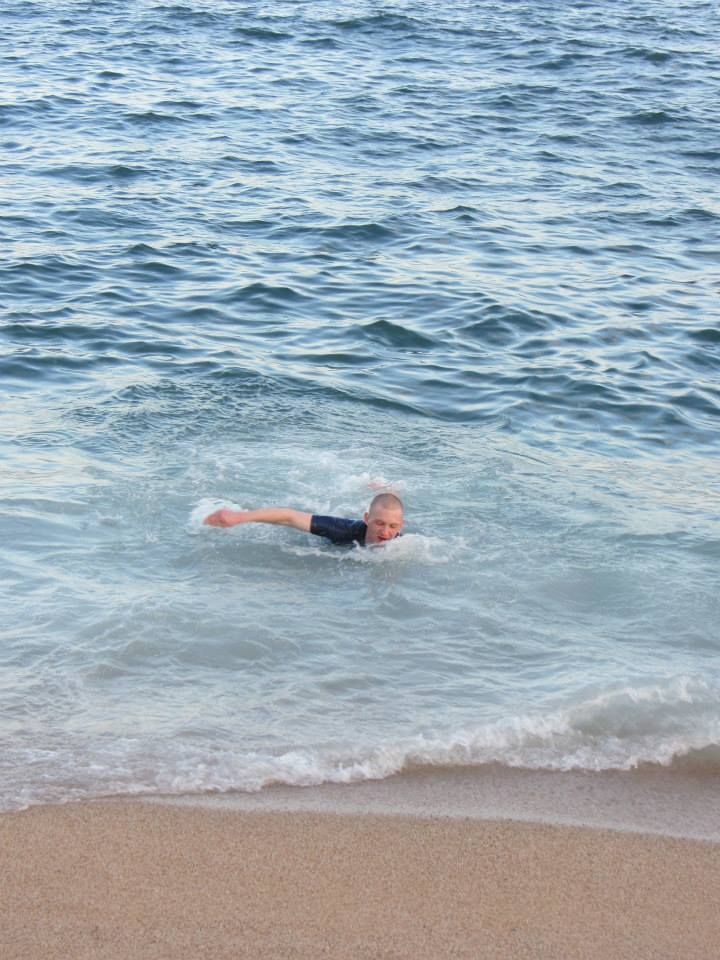 Besides the lack of proper sand, there was another drawback to this beach: trash in the sand.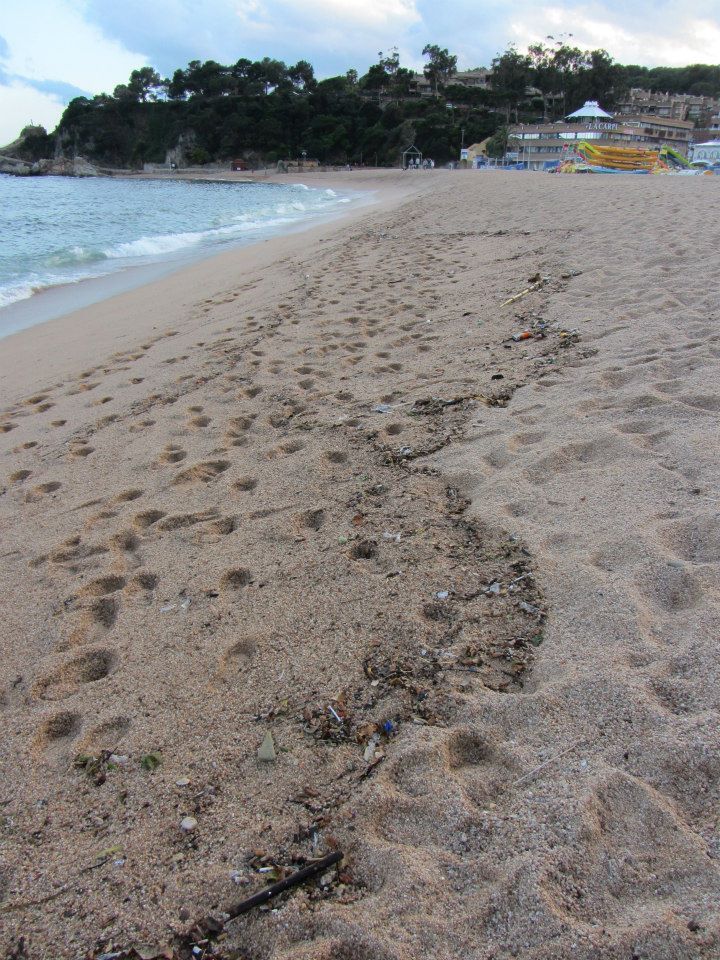 Looking back toward the street again, this sculpture is next to the beach. It's called Esguard. Apparently it was put up in 2000 for FC Barcelona fans (Penyes Barcelonistes) meeting up in Lloret de Mar and the ball is supposed to represent a soccer ball and the world.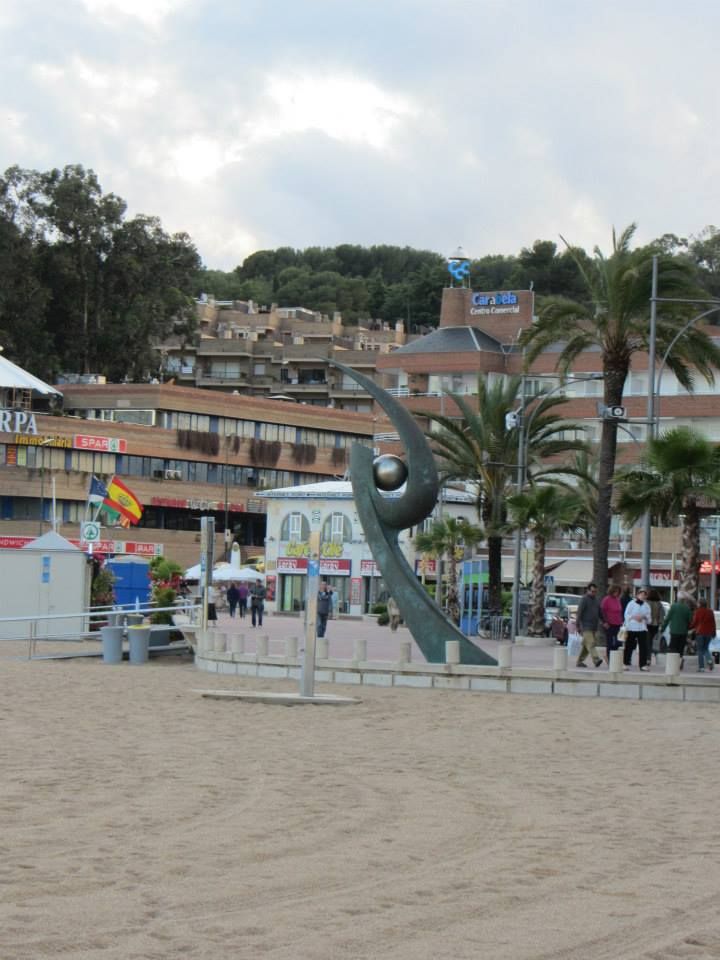 A friend took a picture of Tim and I on the beach before we wandered a bit more.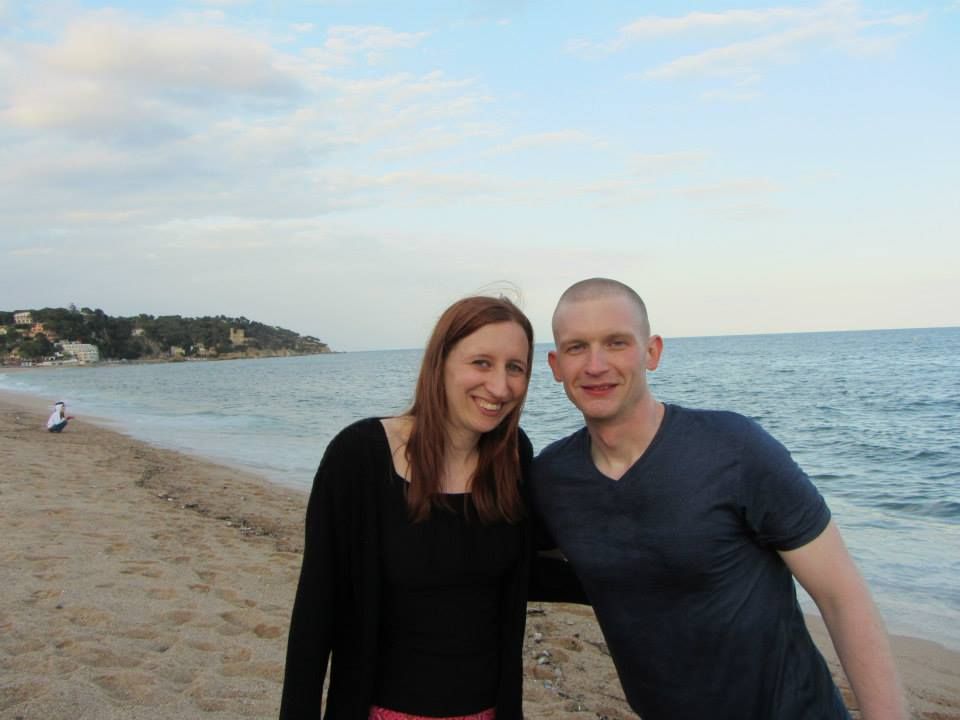 We ended up at another random bar at some point. I think it was called The Dream Cafe, but bars are another thing that Lloret de Mar has an abundance of, so it's hard to keep them straight. It was a sports bar, which wasn't really my thing. We weren't there very long before we decided to head back to the hotel. Here we're walking past a row of bars and clubs.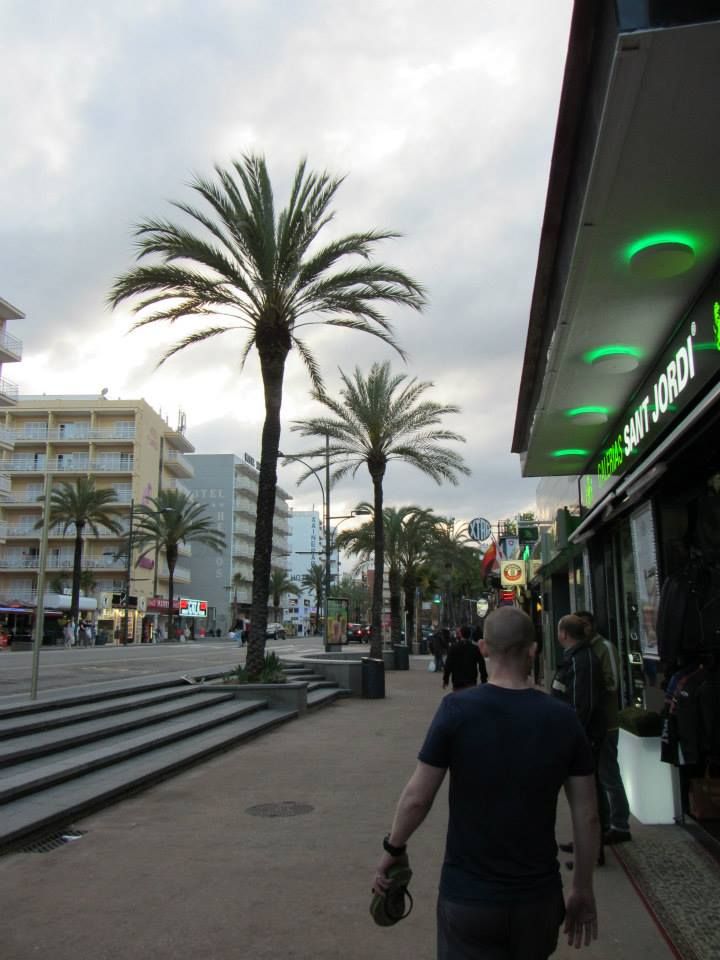 When we got back to the hotel, I hung out on the balcony for a little bit. Here is a picture overlooking the pool and the dining area of the hotel.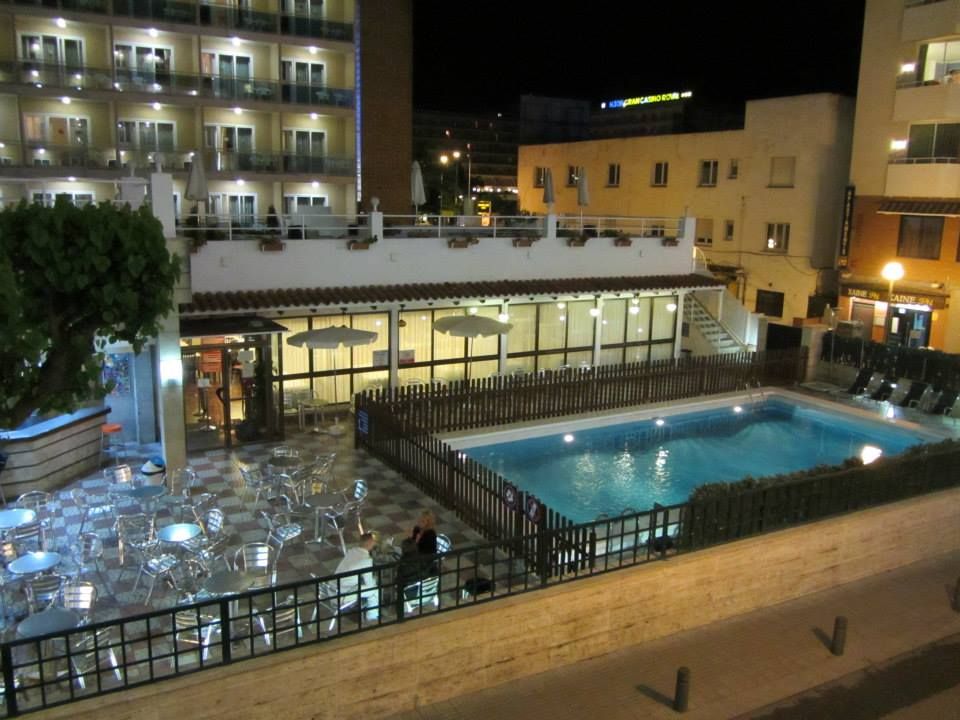 The next day we took a day trip to Barcelona. I'll tell you about that next time!
Related Posts: