I'm back! Over the last few months, I've put in several hundred hours at my practicum site, completed (and passed) a comprehensive exam for my degree, and wrote a final professional paper for my degree, so you can see why it's been a little quiet around here. I have several weeks off between semesters, so I plan to get back to blogging more regularly.
I'll begin with one of my last days in Heidelberg: June 1 of last year. A friend and I and our husbands went to the Altstadt (Old Town) for the Schlossbeleutchung (castle illumination) but decided to get dinner first at Goldener Hecht (Golden Pike). It's right near the Alte Brücke (Old Bridge), and we could see that the streets were already flooding over in what the wastewater management spokesperson Andreas Mika described as "the worst flooding I have ever seen". I'll tell you more about the flood after the restaurant.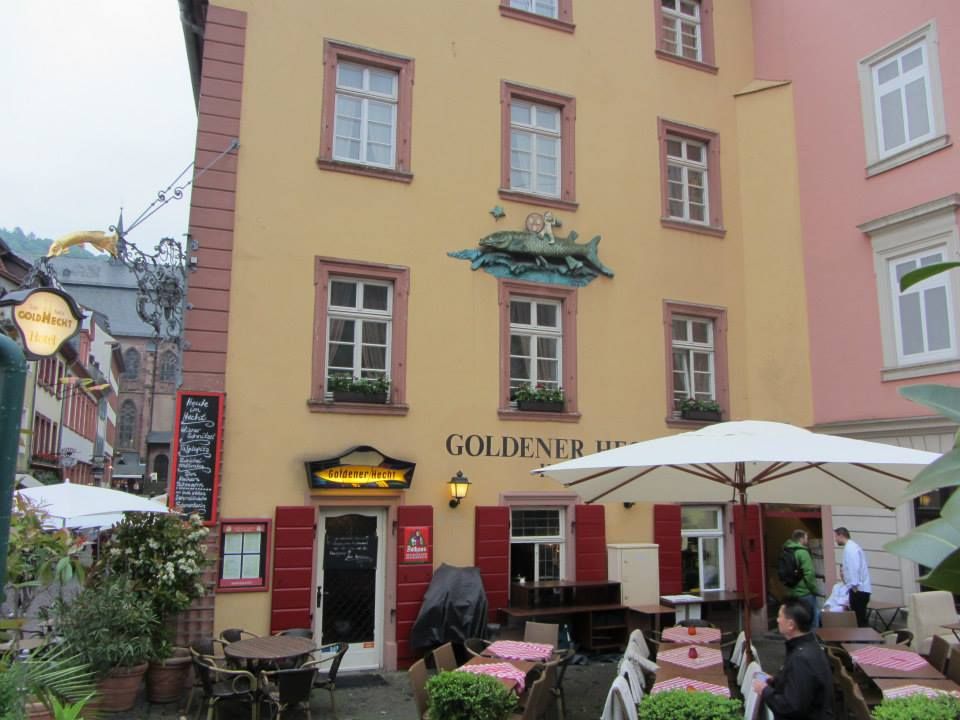 Inside near our table there was a painting which depicted a burning building. It was apt because the castle illumination (Schlossbeleutchung) we'd see later that night happens in commemoration of the 1689 and 1693 burnings of the city including the castle by Louis XIV's troops.  The castle caught on fire one more time in 1764, that time from lightning. This particular painting, however, does not depict either of the two burnings of the city, but a time that the restaurant itself caught on fire in 1989.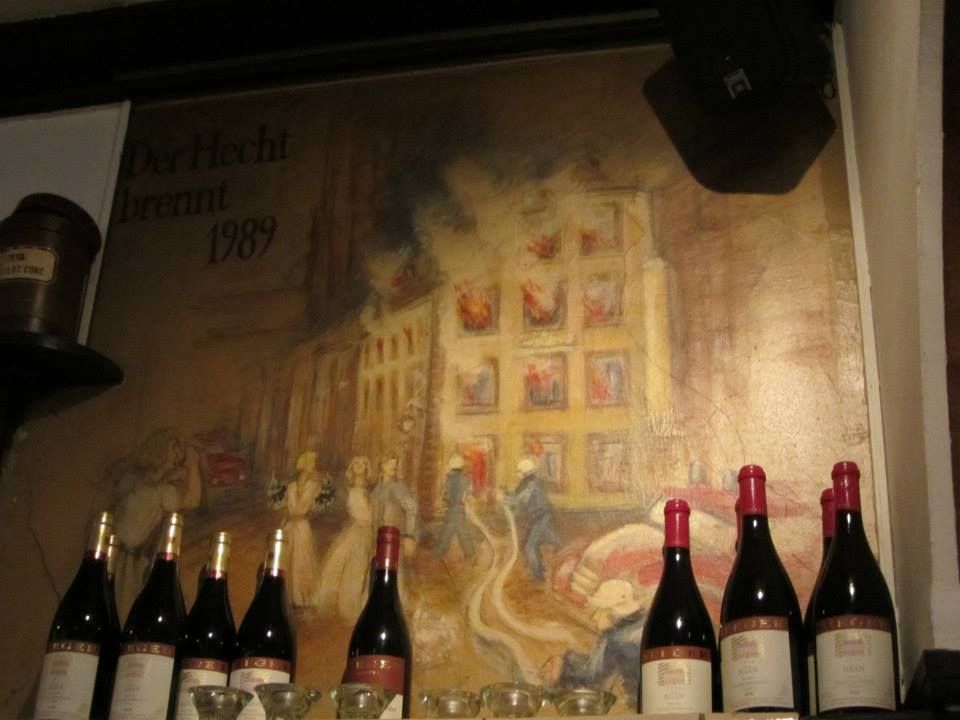 I ordered boiled beef with apple horseradish and vegetables. It came in a pot with two sauces on the side and some kind of potato onion topping. It took up so much room that the lady at the table next to us offered to put it over on her table so we had more room. I did not know there would be so many parts to it. The food was kind of pricey compared to somewhere like Europa, but it was very good.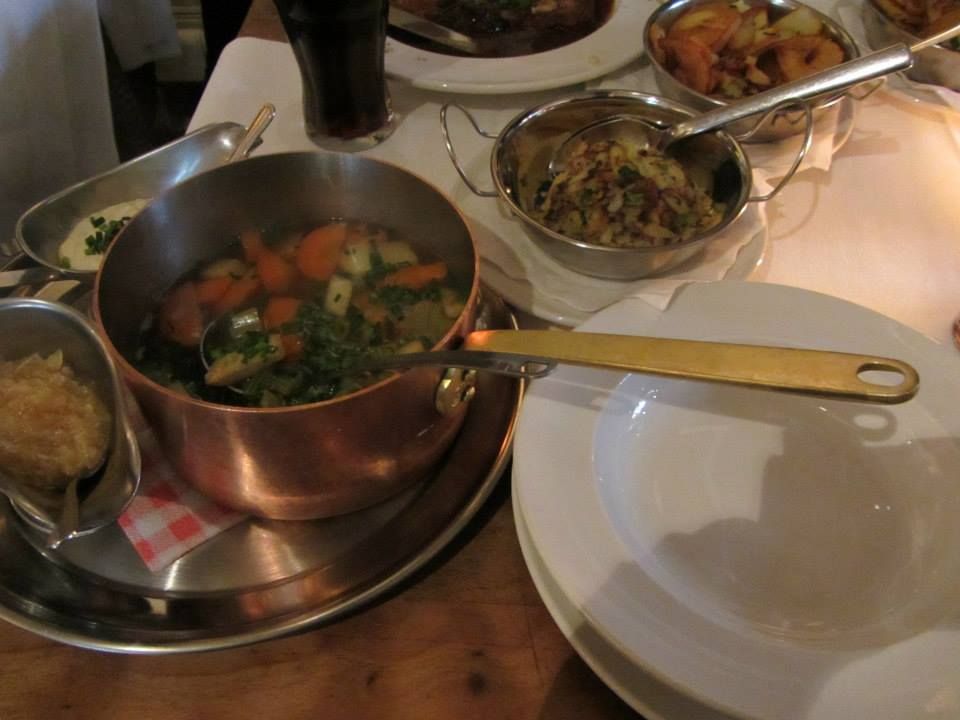 After dinner, we had time before the castle lighting (Schlossbeleuchtung), so we ended up walking and checking out the flooding of the Neckar. I took a lot of pictures, and I'll show you some of them. I might have felt awkward about it, but Germans were taking them as well. On this day the water was nearly up to 13.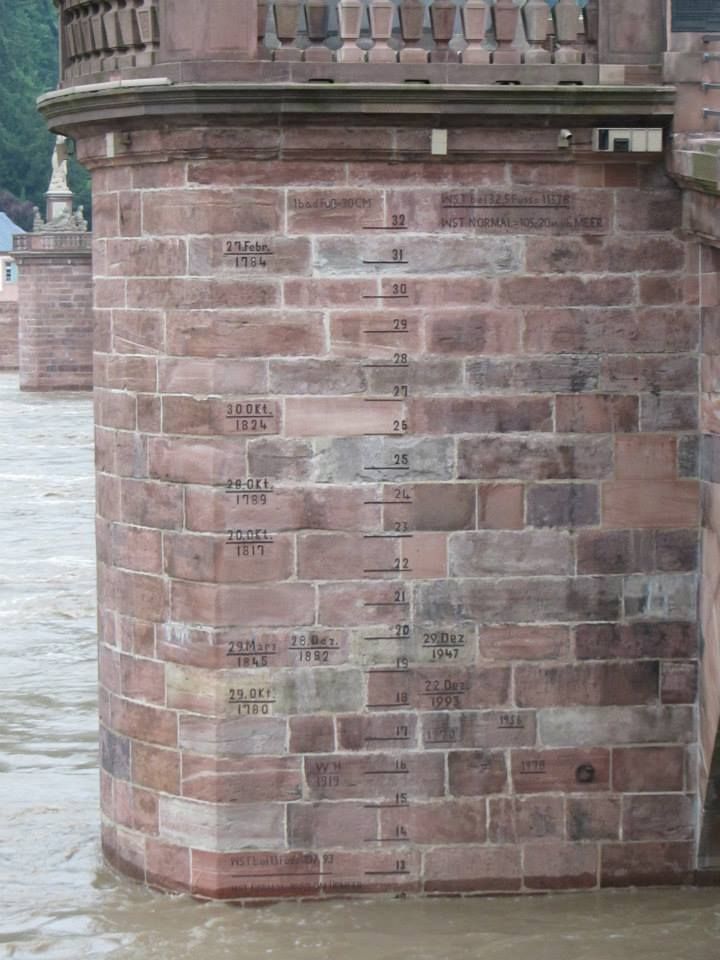 It's been higher in the pastgher in the past. Still, the water was high enough that it was spilling on to the roads.
At one point, we saw water coming up steps to a building, which I later saw from the other side of the river. Before I took a picture, I waited for an older lady to take a picture of a man I assumed to be her husband looking down over the water.  The sign above the arch says: Tränktor/ Erinnerung an/ mittelalterliche/Stadtbefeltigung. (Town gate/ Reminder of medieval/[I found the word in a book I didn't understand, but otherwise Google keep trying to change it to Befestigung which is 'fortification' and would make sense here]).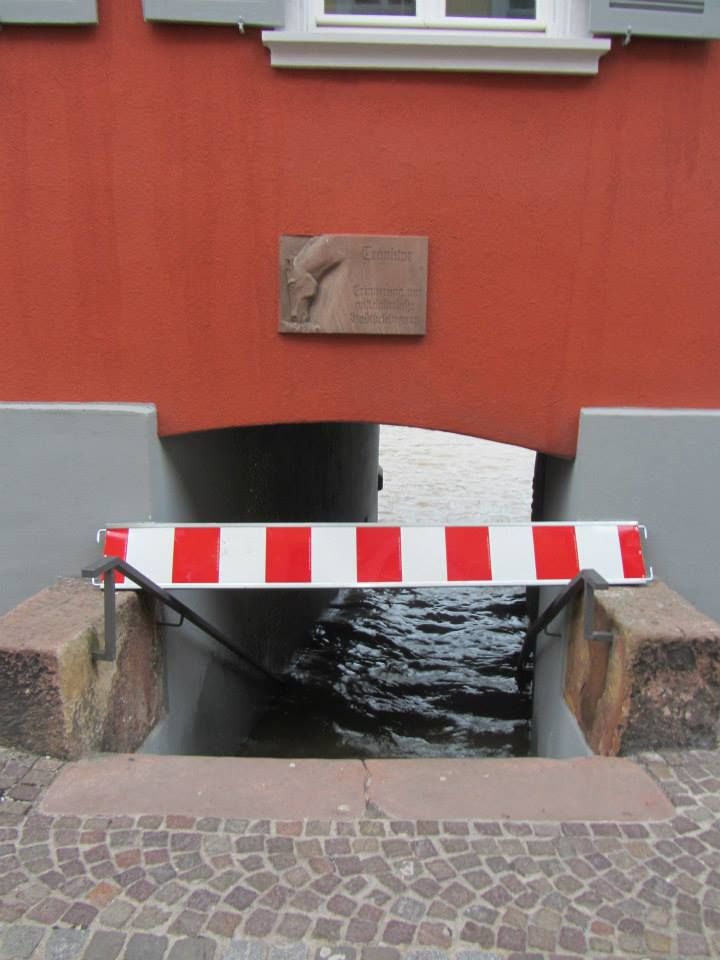 After walking near the water, we walked behind the metal flood wall for awhile. Near where the picture below was taken, we passed the Völkerkundemuseum (Museum of Ethnology). I hadn't known it was there before and was intrigued, but it was closed that day.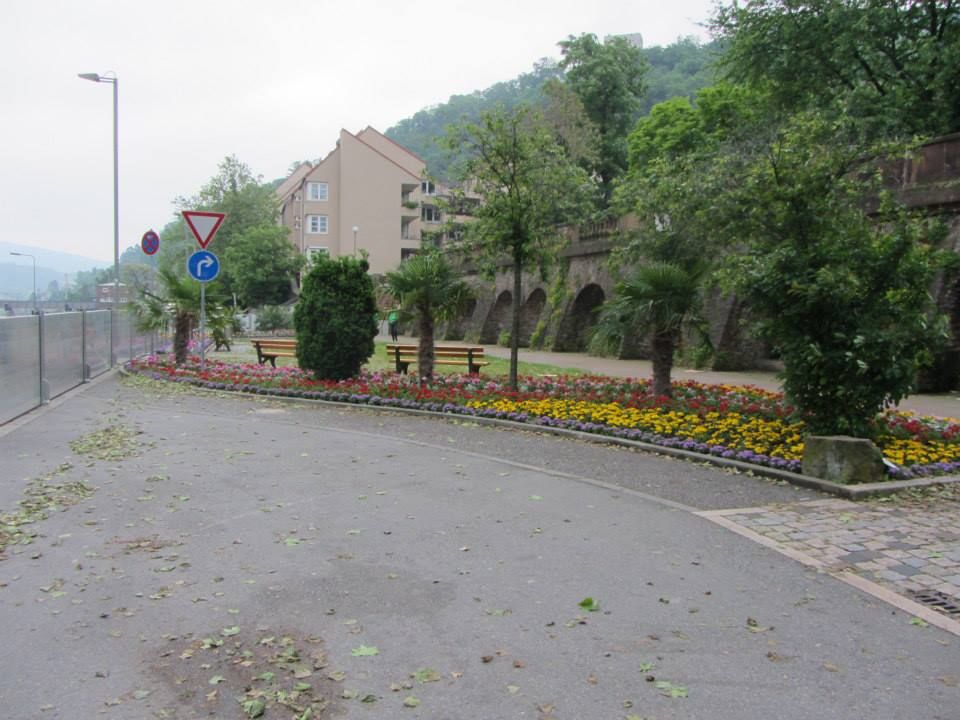 We saw a lot of people hopping over the flood wall, but we found steps to walk up and down that went around the wall so we could cross the river. The Old Bridge was closed to traffic due to the upcoming fireworks, but the Wehrsteg, a bridge over the dam, was open. This was part of the view walking over it, which normally looks like this.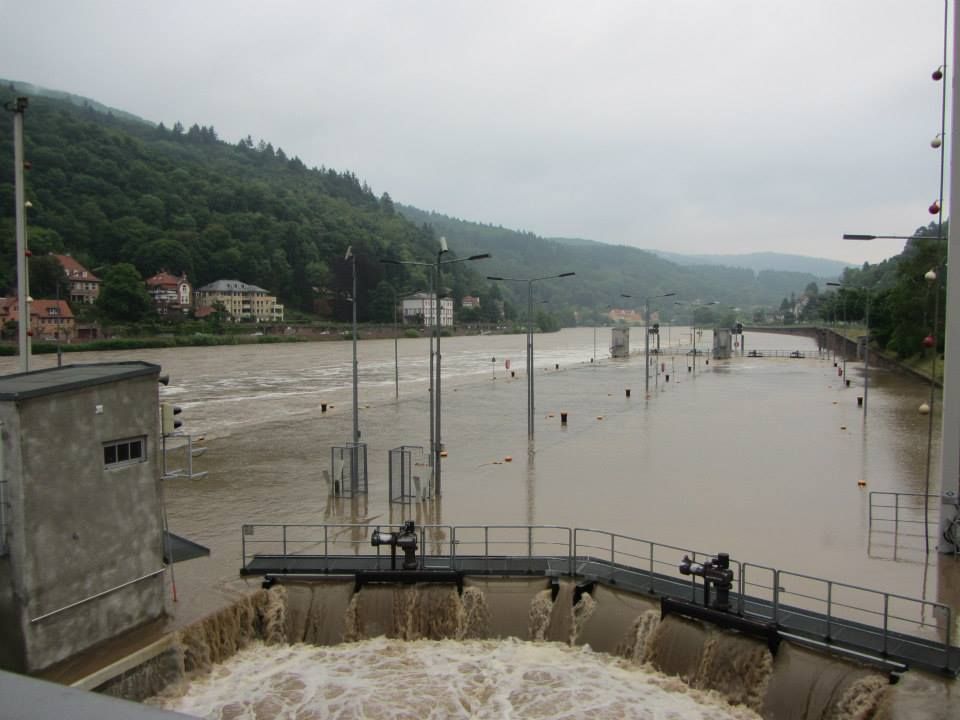 The water was very loud and rushing, so I took a short video. At that point, my camera died, so I was glad I'd thought to charge and bring my extra battery.
After we crossed, I took a picture which includes the red building from which we'd seen the flooded steps.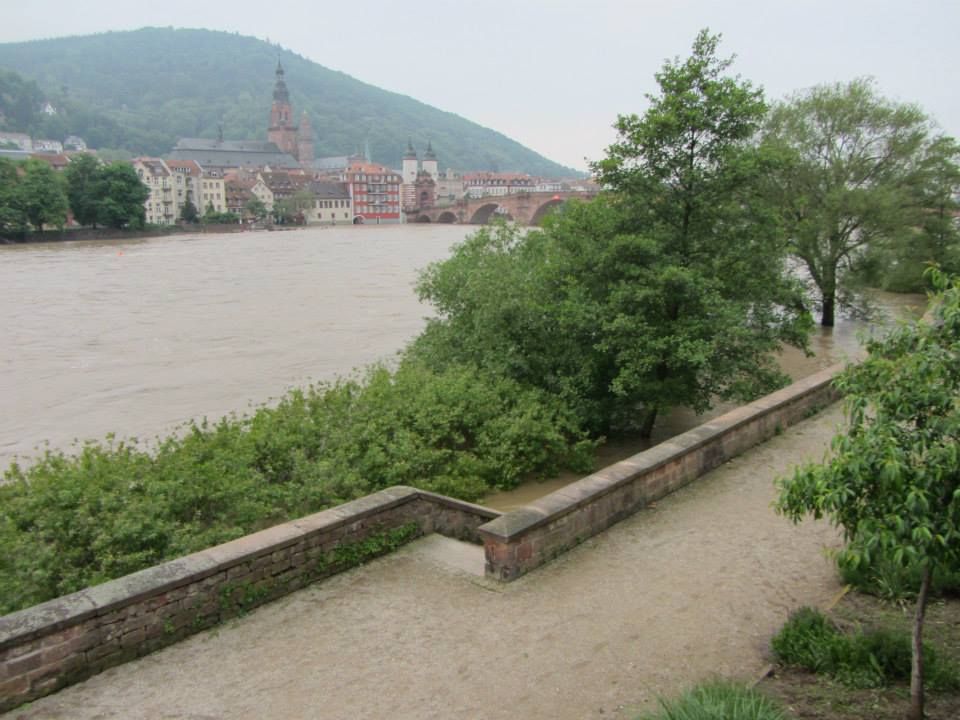 As we walked, I saw that the lights were already on in the castle.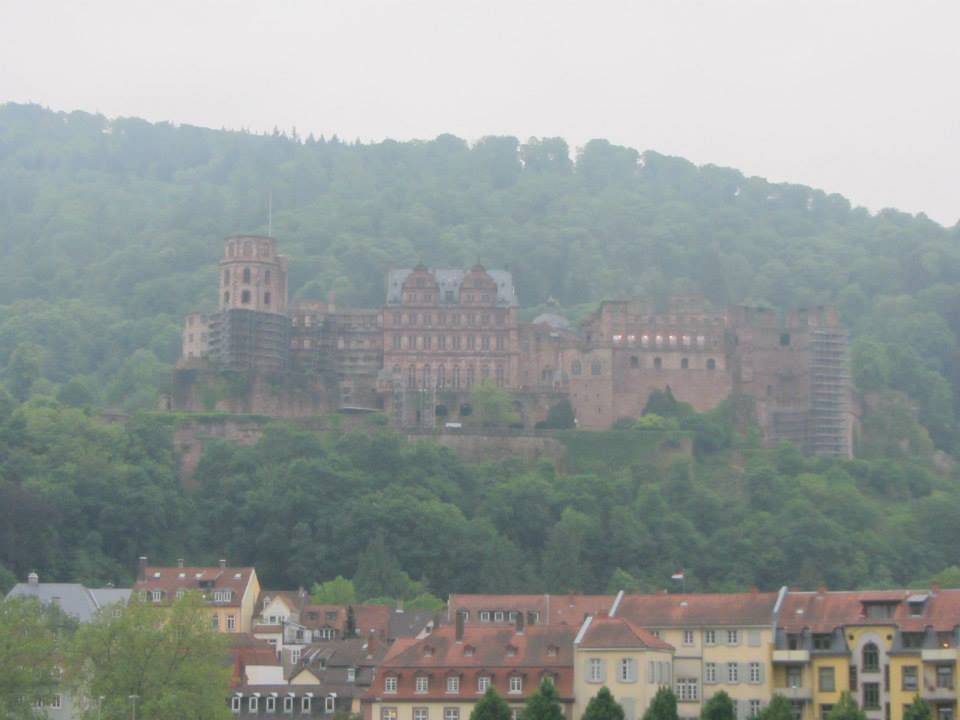 It seemed there was a street party on this side of the river, which made sense since this was the side the castle lighting would be seen from.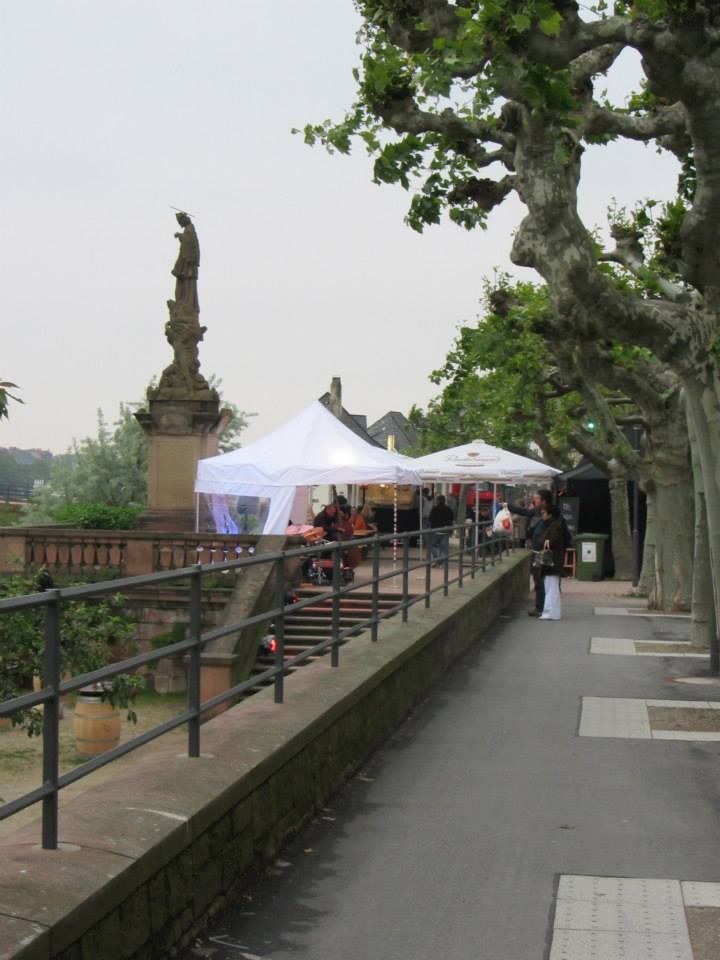 We walked all the way down near the other bridge, the Theodor-Heuss-Brücke, to find a restaurant. We found O'Reilly's, but it turned out there was a soccer game going on, and it was packed, so we went across the street to Bar d'Aix. We had to sit outside since there wasn't room inside. I ordered a cappuccino which wasn't bad but didn't warm me up as much as I had hoped. Another group about our size who came later had better timing than us and got to go in as another group left. Where we sat still wasn't too bad, as at least we were mostly shielded from the wind.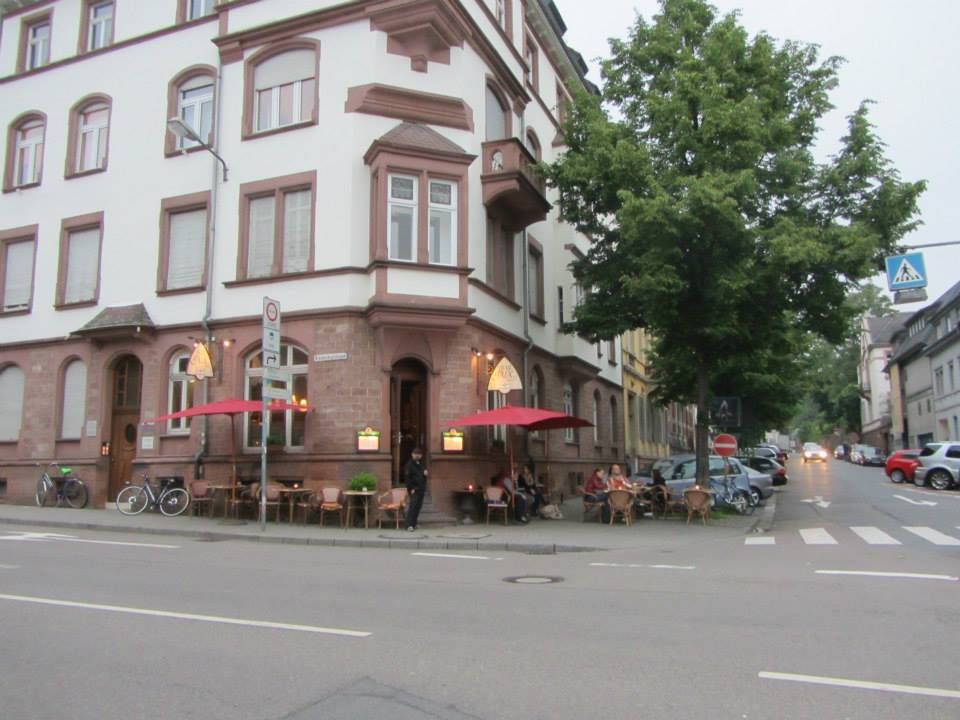 The Polizei started closing the streets down around 9p (the Old Bridge was already closed at 5p) and a lot of people tried to get through. I thought it was funny because I'd have thought everyone would know about the event if they lived around there since it's always around the same time each year. A waiter from one of the restaurants across the street brought a cup of coffee or something out to the Polizei which I thought was nice of him. We waited for awhile before heading back down toward the castle. I'll tell you about the Schlossbeleutchung (castle illumination) next time. Bis später!
Related Posts: