Around 930p, we decided to leave Bar d'Aix and to start walking back down toward the river for the Schlossbeleuchtung (castle illumination), which is held on the first Saturday of June and July and the second Saturday of September each year in Heidelberg, Germany to commemorate the 1689 and 1693 burnings of the castle and city by Louis XIV's troops. The castle also caught fire one more time in 1764. The castle illumination begins at 1015p and is accompanied by fireworks (Feuerwerk), a tradition begun in 1613 by the Elector-Palatine of the time, Friedrich V, who arranged for his new English bride, Elizabeth Stuart, to be greeted by fireworks when she arrived in Heidelberg. 2013 thus marked the 400th anniversary of that tradition.
As it was the first Schlossbeleuchtung of the year, I had thought it might be crowded, but I guess the cold and flood had an effect on the turnout as there weren't that many people. We picked one spot but thought the street lights might get in the way, so we moved further down.
We needn't have worried as, when the time got closer, the streetlights were put out.
There were a few fireworks, then the castle lighting. The castle was lit up by Bengal fire.
At first after the fires went down, there was nothing. We wondered if it was the end, but I didn't think they'd have closed the bridge so early for a brief illumination and just a few fireworks. After the fires died down, there was a much larger show, so I'm glad we stuck around. I took a lot of pictures and some video. I wish I had realized sooner the video setting on my camera (a Canon PowerShot SX230 HS) actually worked better for photographing fireworks than the other settings I had tried. You can see some of my favorite photos and videos below and more video here. My favorite fireworks were the ones they set off on top of the water which looked really cool (last video below).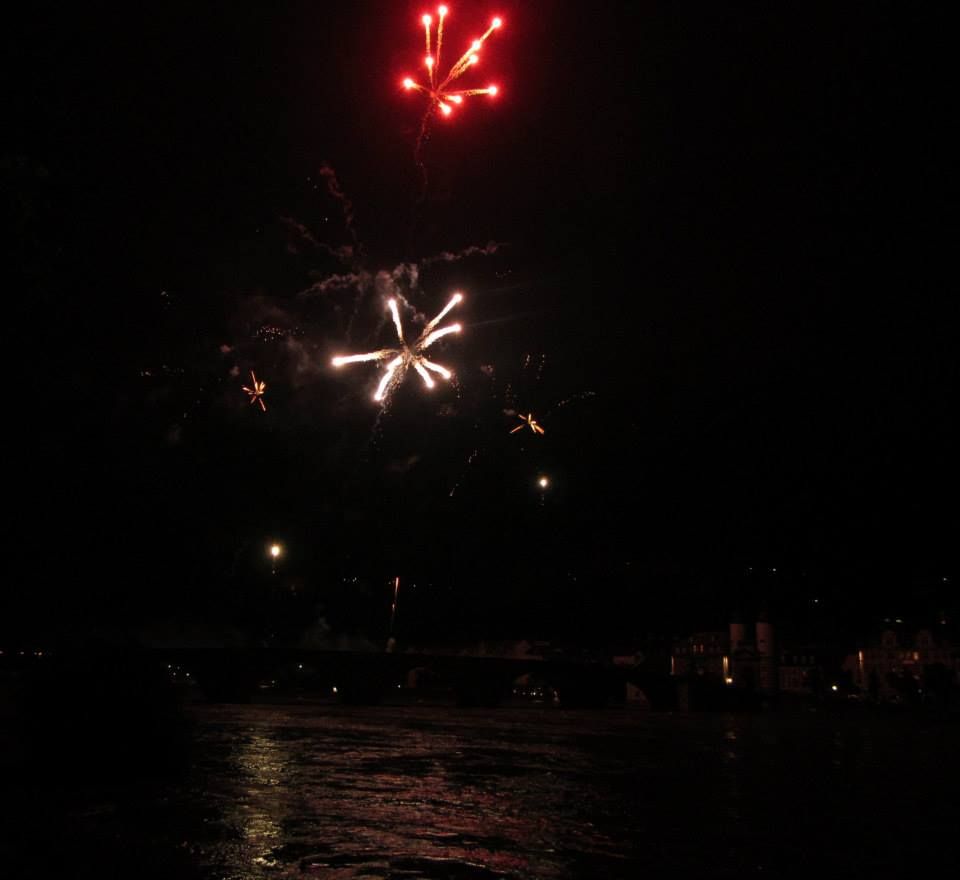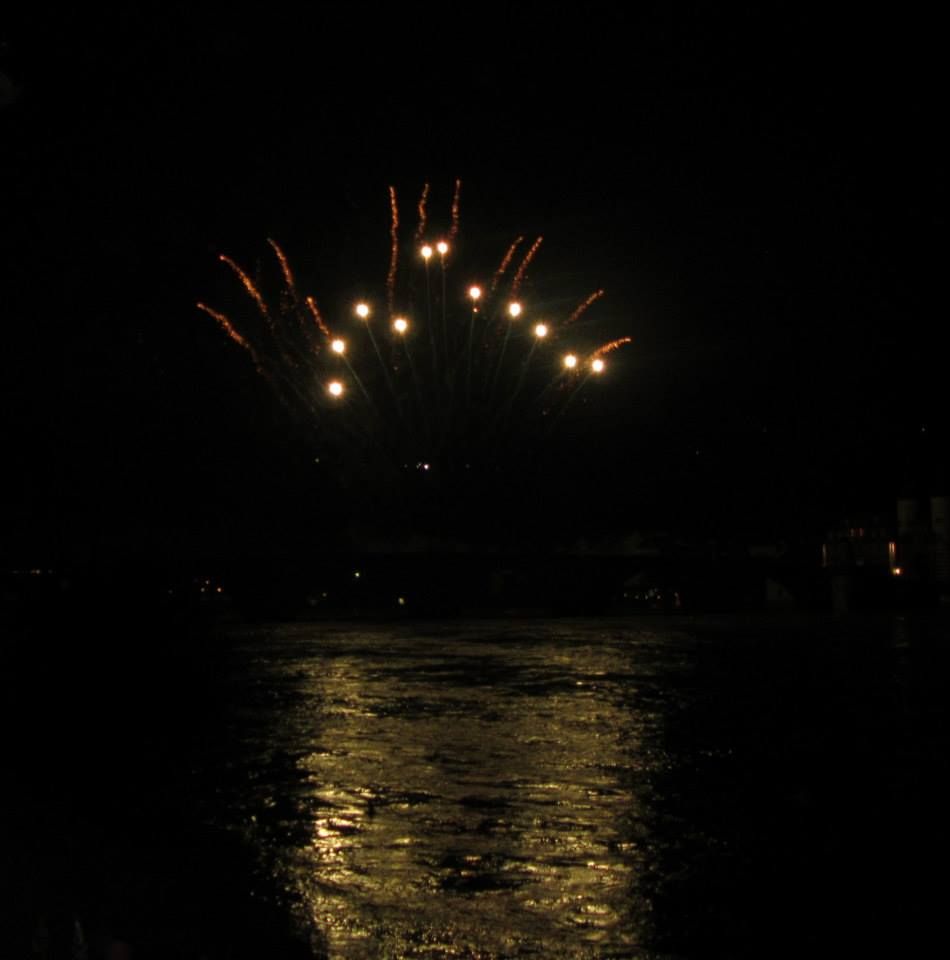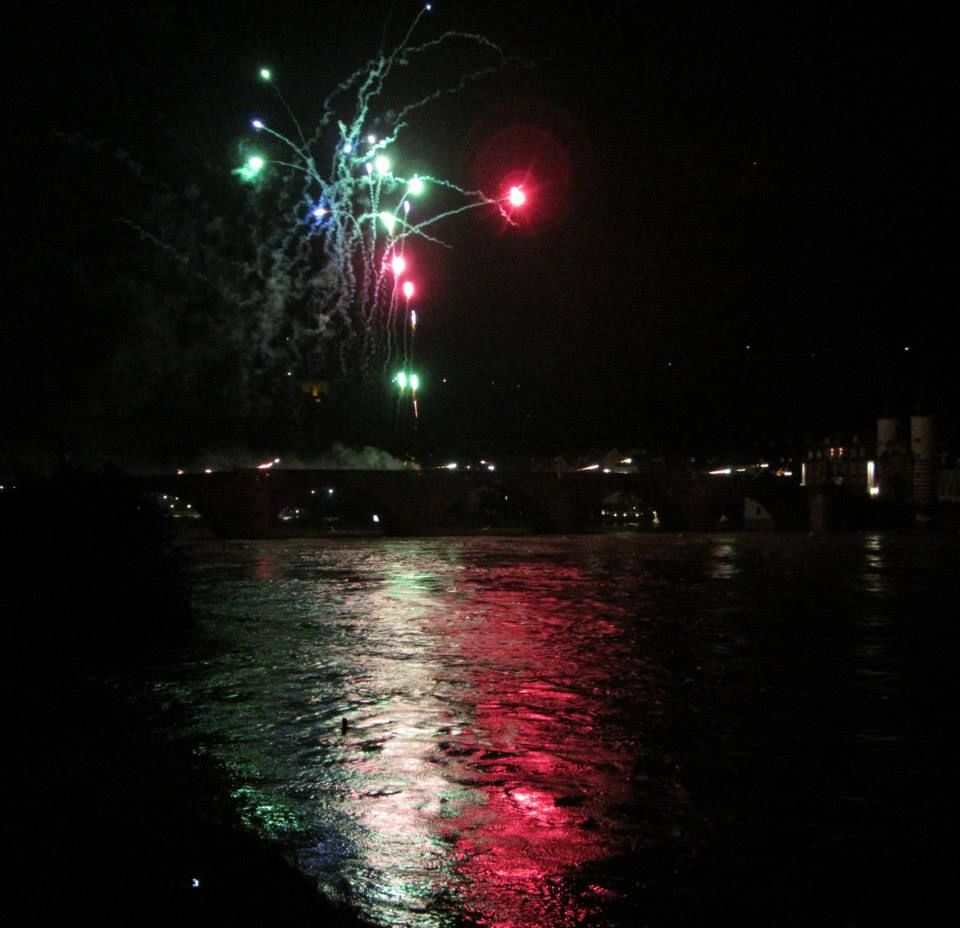 After the fireworks, we walked back down toward the other bridge and took a cab from Bismarkplatz to the train station, which we had parked near thinking we might have trouble finding parking downtown. It was about 9 euro each way to do that.
All in all, we had a fun time at Heidelberg's Schlossbeleuchtung and I am glad that we went out despite the flooding and cold and wind. I imagine we would have had a better time in warmer weather, which that area of Germany seems to get so little of, but then that also might have brought more of a crowd, and we had an excellent spot and unobstructed view.
Note: If you'd like to go to a Schlossbeleuchtung in 2015 they'll be at 1015p on June 6, July 11, and September 15. The best spot for viewing is supposed to be the right (north) bank of the Neckar river, but I have also heard of people going on the Philosophenweg and on river cruises.
Related Posts: