At the end of June, some of my grad school cohort got together for dinner at Zur Dicken Emma (The Big Emma), a restaurant in Ramstein-Miesenbach. My husband declined to go with me, so I went on my own. This would be the first time I had gotten gas on my own in Germany and the first time I'd drive alone on the Autobahn. One went well, the other not so much.
My husband told me on the way out the door that I needed to get gas, so I headed over to the base gas station. I had taken my husband's Esso card and made sure I had the registration. I had thought I was doing the right thing topping of the tank so he wouldn't have to. No one was working the outside booth, so I went inside where there was a bit of a line.
Once it was my turn, I handed over the registration and Esso card. The lady asked whose it was. I told her the car is mine but is registered under my husband. I showed her my ID. She said that I'm not on the registration or on the Esso card, so she'd have to charge me the euro price for the gas. Considering that my name is on the title of the car and his name is on my dependent ID, I tried to see if it was possible to get the military price since it was obviously an oversight that my name hadn't gotten onto the registration or Esso card.
The cashier said my husband would have to go to vehicle registration and add me and told me to make sure that he adds my name near the top where his name is and not at the bottom for authorized drivers, because then I wouldn't be able to do anything by drive and pump gas. I wouldn't even be able to get my own Esso card. She also mentioned that I shouldn't really have been driving the car at all, but on the way in the gate, the gate guard had checked the registration and my ID and hadn't said anything.
Converted to dollars, the euro price for the gas came to $76, the most I have ever paid for a tank of gas in my life. Before I could even ask she said, "And no, he can't get a refund" and told me something to the effect that he can huff and puff til he's red in the face, but they won't budge on it. I thought that was kind of a rude way to put it, but I didn't say anything.
After stopping to pull out some euro (because I had not realized at the time that Zur Dicken Emma accepts credit cards), I put the restaurant address in my GPS and headed out.The Autobahn was not as scary as I seemed to remember, even being alone. I'm glad I had the GPS though, because I'm not sure I'd have found Zur Dicken Emma without it. Unfortunately, despite putting in the actual address, the GPS didn't quite get me there. It told me I was there when I was at The Dubliner. I got out and walked up a little ways, thinking maybe it was a hole-in-the wall type place. Not seeing it, I got back in the car and messaged the group. Fortunately someone answered telling me it was just a little further up the road. It was not a hole-in-the-wall but was just out of sight of where I'd parked. Even as I was driving up there, the GPS was telling me to make a U-turn, so I'm not sure what was up with that.
When I walked in, everyone else had already been there and ordered. I had looked over the menu on their site before I got there and was kind of prepared that it would be expensive, but knew that the food would be large because the person who suggested it said they serve a "burger the size of Louie Anderson's fat pumpkin head". I know that's a bit mean, but it's descriptive, and I still was not prepared for the size. I got a ¼ portion of Hawaii Schnitzel with Spätzle, and it was still quite large. The person next to me suggested taking a picture with my hand for proportion.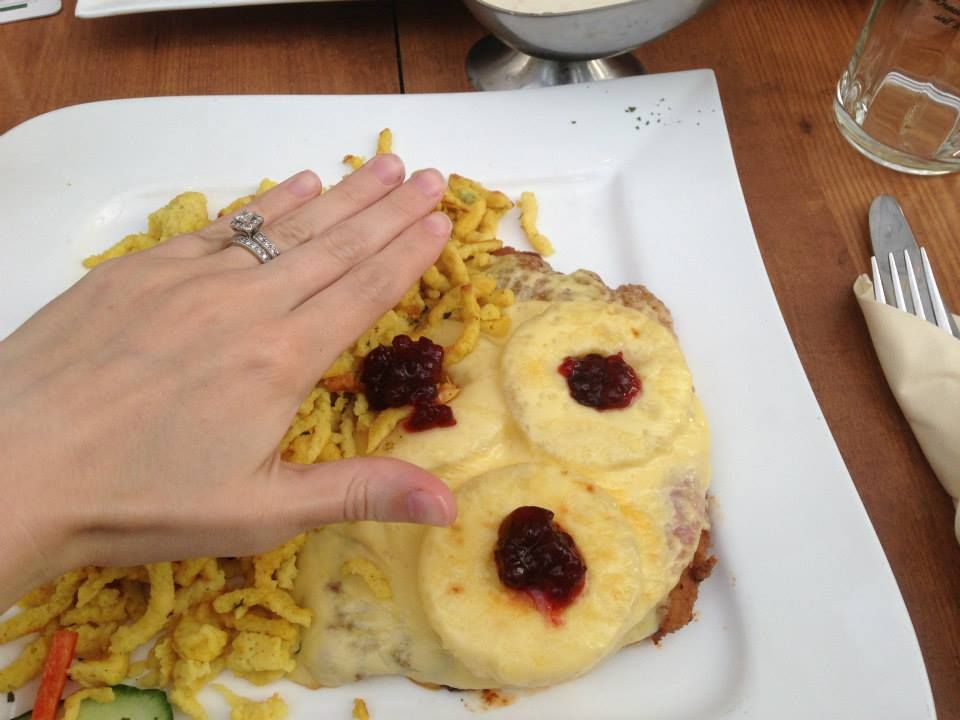 I made a pretty good dent in it but still took enough home to have some Spätzle as a snack the next day and the remainder of the Spätzle and Hawaii Schnitzel for dinner. I had ordered a large cola and forgot when the waitress said "liter" just how much that was. I didn't end up drinking it all. The whole meal cost me €20.87, which is a lot for one person, but it was also a lot of food. The price included a salad bar also, but I didn't go up to it.
On the way home, everything went smoothly until I got near our usual gate, which I knew was closed by that hour. I had hoped the GPS would take me around, but it took me into a wooded area. I had a feeling it was going to take me to a barricaded gate my husband had once ended up at, and indeed it did. I wasn't confident about getting back out so I called him and asked what I could put in the GPS to get me back. He told me to put in the veterinarian on Kapaun, but not to turn onto Kapaun, to keep going until I got to a turn off toward the highway and then it should make sense. He was right. It did.
I stopped before going through the gate and put our house into the GPS again so I could get back from that side of post. It took a few streets before it finally stopped trying to tell me to go back the other way. Finally, I made it home. (I've since learned when coming from the other direction there is a turnoff to get to the proper gate without having to turn around). I can't say it was a perfect night out, and it was more expensive and time consuming than I'd planned, but I had fun and had a good meal at a restaurant I thought I would go back to again. I did eventually end up going back when it was my turn to pick a book and location for book club. Actually thinking about the Hawaii Schnitzel as I post this, I may have to go back again soon…
If you want to go to Zur Dicken Emma, here's some info from their site:
Address: Reichswaldstraße 1c 66877, Ramstein-Miesenbach
Hours: Daily from 11:00 am – 11:30 pm
Accepted payments: Visa, Mastercard, American Express, Euro
Related Posts: