Our last steps in moving within Germany from Heidelberg to Kaiserslautern were to get the dogs registered, to  get the car registered (with me on it this time), and to adjust to little differences in the handling of trash and recycling from the Army post we had lived on to the Air Force base we had moved to.
Getting the Dogs Registered 

Although we had moved to an Air Force base the Kaiserslautern Veterinary Clinic is actually staffed by the Army on Pulaski Barracks which is attached to Kapaun and Vogelweh and across the highway from Vogelweh Family Housing. Last time, in order to register, we had to take the dogs in for an appointment. Fortunately, this time, all we had to do was drop off the dogs' paperwork and they put them in the system. They said that we wouldn't even have to bring them in to get heartworm medication since they'd had a negative test on file and had been on preventative treatment since.
Getting the Car Registered 
Having recently learned when stopping for gas on the way to dinner that I was not on the car registration, it was important to make sure that I got on it. Since we had recently moved, we also needed to get new plates. My husband stopped in to the Headquarters USAREUR (US Army Europe) Vehicle Registration in Sembach and gave them my driver's license and social security number to get the process started. Then we had to drive up to Sembach before they closed for me to show them my USAREUR license and dependent ID as well as to provide some other basic info. The process was all pretty quick, and within a few minutes, we had new license plates for Kaiserslautern instead of Heidelberg.
New Recycling Rules
Recycling was required in Patrick Henry Village; however, we had colored dumpsters to throw things into separated by plastics, packaging, and metal; paper and cardboard; and trash that could't be recycled. Glass could be recycled at special containers along the street or taken to one of the glass recycling spots, one of which I remember was at the PX. In Vogelweh Family Housing, we were able to keep our can system (one for each type of garbage or recyclable); however here special bags would be required which we get from the self help store (more on that shortly). There is a yellow sack (pictured below) for all of the things that used to go in a yellow dumpster and brown plastic bag for paper and recyclables for the things that used to go in a, if I recall correctly, blue dumpster. Trash can be thrown into any bag of our choosing. We still throw things into separate dumpsters, but those are different as well: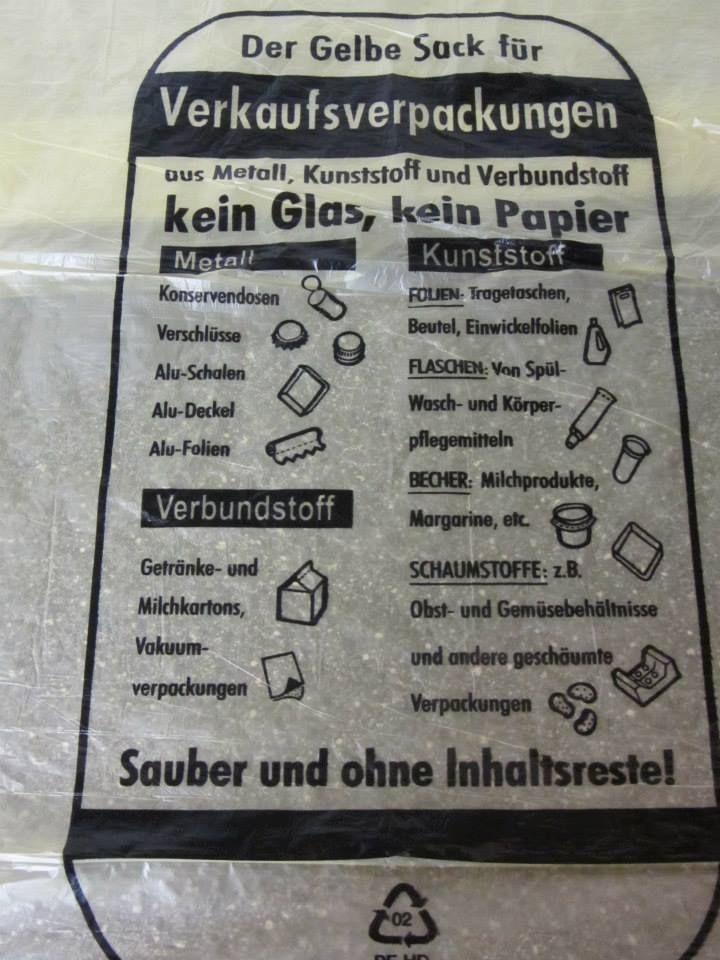 New Dumpsters

In Heidelberg, each stairwell had its own set of dumpsters which was fenced in. This was slightly more sightly than here, where there are rows of dumpsters out in the open. However, here the dumpsters are smaller, as it is only the opening that is above the ground while the actual dumpster is underground. In theory, this is nicer as it should keep some of the smell down both from the dumpster being smaller and being underground. However, the openings are also small and thus sometimes a bag of the size we are given can not actually be filled up if they're going to fit.

Many people are also lazy and leave their stuff on the side of the dumpster instead of breaking it down (which is prohibited, except for on bulk trash days and only acceptable for bulk trash. Things that would normally go into the dumpsters are still supposed to go into the dumpsters). Some of the dumpster clusters, like the one pictured below, also have dumpsters for glass, which is nice, however, one can only put in one bottle at a time. This is not much different than Heidelberg where the openings for the ones on housing were similarly small.
When I saw these dumpsters, I wondered how they would be emptied, and got my answer one day when I happened to see the garbage truck in action. The truck has a claw to grab the pole sticking out of the top and lifts the whole dumpster. Since I saw it from my window and snapped a picture through the screen with my phone, the image is not the best:
Self-Help/U-Fix-It Store
Although there was a self-help store in Heidelberg, I think we only used it once when we needed curtain clips. Fortunately, the one here, called U-Fix-It is located right on Vogelweh Family Housing because I have had to use it often. For one thing, that is where to get the yellow and brown recycling bags I mentioned above. I have also had to get a lot of light bulbs, particularly for the small bulbs above our bathroom vanity, the left two of which seem to burn out faster than the one on the right or any other bulb in the apartment. The store will exchange light bulbs one for one (up to a limit of seven at a time I believe), so one must make sure to take in the burnt out bulb(s). If you're like me and have broken a bulb (or several) while taking it out, just take what's left of it. U-Fix-It's process is pretty simple. I just go in, tell them my unit number and what I need, and sign for it (except for the bags, which are located in the hallway and self-serve; however they ask you not to take more than two per person).
That's all for the final steps and adjustments to Kaiserslautern. Next time I'll tell you about some things I love about the new apartment.
Related Posts: